The Closet
MAG
They shouldn't call it being in the closet, they should call it being buried alive. Hundreds of pounds of weight crush your chest, suffocating you. It's slowly killing you; you're driven mad by the weight of your secret. And your only option, your only way out, is to throw yourself to the wolves. That is what they should call coming out - throwing yourself to a pack of hungry, gay-hating wolves. Why would anyone sacrifice themselves like that? Why would anyone take themselves out of one danger only to be forced into another?

Like I said, being in the closet - being buried alive like that, holding that big of a secret inside - it makes you crazy. Then one day, there are no other options, there is no control, and you just explode. And by exploding, I mean standing on a lunch table in the middle of the cafeteria and screaming, "I'm gay!" At least, that's what you feel like doing, and if you're at that point you may as well, because it sure does save a lot of time and questions. But, if you're like me, you never make anything that easy for yourself. Instead, you tell a handful of people, and answer the accusing questions of those who have heard the rumor but want an answer firsthand because it's somehow their business.

Very quickly you realize your mistake and regret ever opening your mouth, but you can't turn back because too many people know the truth. Plus, it would make being gay look like something to be ashamed of, and even though by now you are (because they have made you), you don't want them to know it. It's even worse if all this has happened because you like somebody. You so badly want to reach out to them, so badly want them to understand, to care, even if it's not in the way you care. It's even worse if you tell friends (who turn into ex-friends) whom you like.

Once you throw yourself to the wolves, it's like nothing happened before that moment. Suddenly, all the recess fun, the birthday parties, the play-dates, the sleep-overs, trips to the mall, and promises of Best Friends Forever don't matter anymore. None of it.

The life you lived before that announcement vanishes before your eyes. And this is when you get angry. You wake up with a knot in your stomach every day, afraid that one more whisper, one more kid refusing to sit next to you, will break you completely. And in some ways, you wish that would happen, just to escape, hoping maybe your mind will send you to a reality safer than the one where you're trapped. But feeling like giving up makes you angry, because you're a fighter. And underneath all that pain, all that fear, a spark of the warrior still exists.

So, with all this anger, with all this fight hidden deep inside, the warrior within takes over and each day becomes a matter of survival. And with no one to hurt, no way to defend yourself, how do you survive? You do whatever you have to to release your emotions, even if it means bleeding them out.

Eventually though, in the same way that the cuts scab over, so do the wounds left by your fight with the wolves. Sometimes they bleed a little again, and sometimes you can't sleep because the memories keep you awake, but despite the scars, you walk away from the wolves.

Maybe you start a new life and change schools, like I did. Then you're faced with the decision to come out again, but at least this time it will be your decision, one made with a clear mind. Or maybe you stick it out, figuring it's easier than starting over. Whatever you do, you walk away from that grave you were trapped in, away from the wolves, stronger than you ever thought you could be. Stronger than they ever thought you could be. And that, that gives you courage - the courage to take on the world.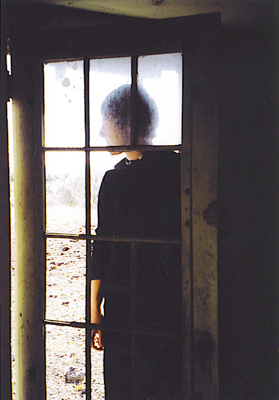 © Anonymous