I Believe
MAG
The school building, normally as blue as a clear sky, was shining white in the bright Korean sunlight. The sparse weeds growing on the playground fluttered in a gentle breeze. It was so quiet that it was hard to believe 1,500 students were sitting inside, all staring at a girl standing on a platform.

Looking nervous, she clenched her fist. "When I make a decision, it is not important whether it is supported by others. What truly counts is whether or not I have confidence in what I believe," she said.

At the beginning of ninth grade, I confidently signed up to run for the presidency of the Student Organization. It had always been my dream to be politically and diplomatically active, so I thought this position would give me a better perspective on my dream. I expected this election to be just as easy as those for the chairmanship of the class that I had won three years in a row. What was waiting for me, however, was a competition as intense as the one between Bush and Kerry. I, confident of my leadership and communication skills, campaigned vigorously. I spoke to students every chance I got and even had a friend play a bass drum while marching around the school to gain attention.

After my first week of campaigning, I met an underclassman who didn't recognize me despite the pictures of candidates on almost every inch of the school. I asked who he would vote for and since he seemed indifferent, I expected him to take a moment to answer. He didn't, and said, "Who cares about the female candidate? The guy should be president." I was shocked. I was used to some adults ignoring women because of the influence of Confucianism, which considers men exalted and women ignoble, but witnessing sex discrimination by my generation was shocking. This, however, was just the prelude.

Many conservative male classmates made vulgar actions against me, considering me a conceited female challenging the authority of men. During one of my speeches, they yelled in unison, "What makes you think you're better than men?" and took a sexually harassing pose. They wore earplugs during my speech to show their opposition and even distributed them to others.

I was enraged, but discouragingly, there was little I could do. Looking for sympathy and encouragement, I approached my teachers, who said, "We don't think it will be favorable to you. Can't you see that things are getting tougher? Why don't you just give up?" This only depressed me further.

It seemed that the whole school was against me. I was exasperated to think that I might not be able to accomplish my dream because of this discrimination. I was irate about the egotism of boys who thought I was a rebel defying the accepted power structure.

In self-pity and anger, I spotted the biography of Hillary Rodham Clinton on my bookshelf. Since sixth grade, she had been my role model. When I saw her on TV raising her voice for more aid for women and children, I knew I wanted to be like her: intelligent, politically active, unafraid to speak up.

I opened the book to her graduation speech from Wellesley College in 1969. She had written an ordinary speech but didn't consider it insightful, so when it came time to deliver it, she put away her notes and instead spoke about what she thought was really right and helpful. In response, her fellow graduates told her the speech made them realize the importance of women in improving the world and gave them more confidence. Impressed by this, I realized that I should stay strong. Not being supported by others didn't mean I was wrong or should give up, so I decided to work even harder to achieve my goal.

After this realization, I found an effective way to communicate with voters by adding my screen name to my campaign posters so that voters could talk to me online. Talking with hundreds each day, I was amazed how many students wanted to know more about me. I answered questions and responded to their doubts with confidence. I could be friendlier with and closer to voters without the disruption of the boys and the discouraging comments of teachers.

Election day finally arrived, and the candidates gave their final speech. Standing on the platform in front of 1,500 students, I was nervous, but tried to focus. In my speech, I erased the insults, discrimination and unproductive anger until only hope, faith and confidence remained. The next day a big banner at the school's entrance announced, "The 54th President of the Student Organization: Youn-Ah Kim."

A year later in America, I was having a hard time fitting in. The cultural difference was one obstacle, but nothing was as difficult as getting over the prejudice against an ordinary-looking Asian girl. Every time a popular idea required me to act in a certain way, I remembered standing on that platform where my will to stay confident was tested. I concentrated on what I believed. I have lived a life following the right - not necessarily popular - ideas. I don't know what is waiting for me next, but I'm not afraid because I have faith in what and who I am.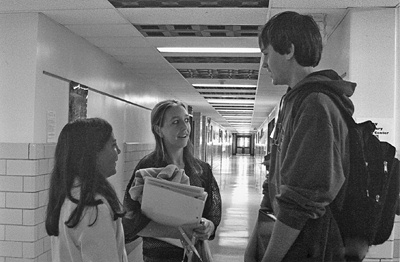 © Anonymous