Dear Legged People
MAG
June 22, 2014
Dear legged people,
Why do I make you uncomfortable?
Why is it that you look for a way to understand me,
to be with me,
like I'm some kind of equation
that doesn't seem quite right?
Dear legged people,
I don't know if you realize this,
but your stares burn through my skin.
They cling to my insides and sizzle,
slowly making bitter what was once
sweet and forgiving.
Dear legged people,
The fact that I'm only as tall
as a five-year-old
doesn't mean you have to speak to me like one.
Dear legged people,
When did "disability"
and "disabled"
become the same thing?
Dear legged girls who wish they had a thigh gap,
If I had your legs
I would flap those babies together
with every step.
Dear legged people,
Yes, I have a job.
Being alone in a wheelchair is not a novelty.
I am not a novelty.
Dear legged guy who told me I inspire you,
I don't quite understand what you mean.
You're inspired by the fact that I'm having coffee?
Dear legged people,
Has society come to a place where so little
is expected from wheelchaired people?
Dear legged people,
I am not here to inspire you.
Dear legged people,
I am more disabled by a society
that sells disability like handouts
to make you feel better about your lives
than by my body.
Dear legged people,
Quit expanding the differences
between me and you.
Our lives are not as different as they seem.
I should know.
I was once
one of you.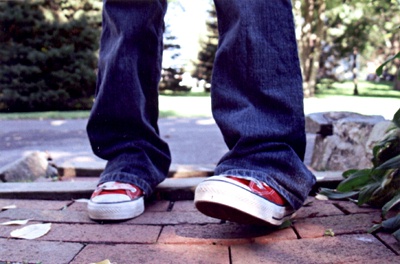 © Sara M., Milford, CT