The Rope of a Filipino Seafarer
September 11, 2015
I began dreaming in the fair and fertile ground of the Philippines.  It is the steep slope that has toughened my spirit and the white sand that has refined my totality.  But as a future seafarer, I am forced to set a sail from her shore. I am obliged to momentarily unmoor the lines that connect me to the port of this country. But there will be one rope that will remain strong and uncut.
This rope united the burning hearts of Filipinos in the memorable People Power in Epifanio Delos Santos Avenue (EDSA). It was February 25, 1986 when the exceptional splash of unity wrecked the pillars of President Marcos' dictatorship. Truly, with unity comes power. This rope brought out the steel strength from every Filipino and tied every word into a deep prayer for freedom. This rope of unity, passion and faith did a change for a lifetime. Thus, I will carry this rope with me in the sea.
However, the same rope was been put to a test by the force of nature. Super Typhoon Yolanda (Haiyan) last 2013 came roaring like a drunkard father hitting his little son. It brought angry rain of pain and hopelessness, flooded every green plain of tomorrow and tossed every roof and dream into a wayward course. The storm twisted and whipped this rope onto the hard concrete wall of despair, but the rope bounced back like a ball trying to soar. Instead of wallowing into its forlorn fate, the rope knotted every Filipino to paint a real smile of hope and straighten up their backs again with unfathomable optimism. It tied the common belief that what comes after a storm is a light that illuminates any abysmal situation. So, this rope also signifies flexibility and resilience. Thus, I will carry this rope with me in the sea.
Lately, I have also discovered that this rope is the rope of courage and inspiration. I have found that it is connected to every overseas Filipino worker around the globe. This heartstring infinitely stretches across vast oceans and distant lands as it reaches patient souls who seek a bright future for their loved ones. I have seen how they grasp for courage to surpass great waves of solitude to earn the life they dream. I have felt how this rope becomes their lifeline to continue living without the warmth they need. I, sooner, will be one of them. Thus, I will carry this rope with me in the sea.
This rope is the rarest of all. Its fibers are abacas of strength, resilience and courage combined into a non-synthetic rope threading a true Filipino. This rope runs along the Philippine coast which symbolizes how united, tough and flexible we are in every tsunami of challenges that floods our land. This rope possesses the Filipino blood that flowed in the veins of Lapu-lapu, Jose Rizal and Andres Bonifacio. And it will continue to flourish forever.
This rope, with its deepest quality, makes me a proud Filipino. This rope of the united people in EDSA, of the hopeful victims of Yolanda and of our present heroes, leads me to manifest a real Filipino.
My nearing departure awaits my arrival. Few months from now, the voyage of my chosen profession will commence. Yet I believe with this baggage of experience and knowledge, and this rope, I can face the perils of the sea. I can show to the world how blessed I am to be a Filipino.
After all, I am not just a proud Filipino citizen, for I am also a proud Filipino seafarer.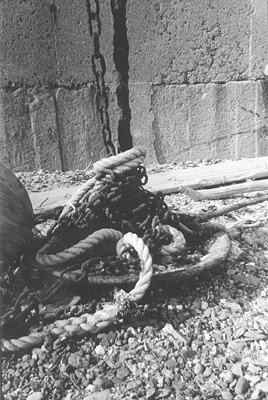 © Jeanette M., Phoenix, AZ