tribute to bishop Romero
November 23, 2009
If only everyone or just a quelqu'un nowadays were as spirited as the featured bishop, then surely the society would be moved to follow Christ more clearly and closely. This man was brave enough to defend the rights of the innocent civilians against the abusive authorities who in the latter part even killed many people who tried to end the government's cruelty which seems to go on perpetually. He bravely stood in front to lead the people in uplifting, bringing back and maintaining the peace, justice and morality in the place. Though he knew his life is at stake, he didn't show any signs of weakness that might have given him away to the eager hands of Mr. Give Up. He might have known he's going to end up like his dead friend, a fellow priest but still, he didn't desert the people. What a noble man he is! He stood his ground and fought till his last moment. Truly, he's one great man deserving the commemoration of the people nowadays.

A speck of dust as we are for now, we are still significant. We can contribute to the maintenance of the fading morality of the society. Though hard as it is to do this due to the arising social problems brought about by the global modernization and increasing number of people below the poverty line, it is still possible. Just because it is hard does not mean it's an impossible task. If our abilities, time and resources limit us to do the same noble thing which Bishop Romero has done, we could look into what we can do and where we are,presently. Simple actions such as turning our backs to illegal drugs, cigarettes, etc is just one way. Deleting the item "bullying others" on our daily routine list, is another. Keeping our consciences clean and guilt-free by doing honest deeds, earns a yes.

While still young, we must already imprint on our minds and hearts that we are the foundation of our society so it is very important that we give ourselves a good reminder that we must live according to what God wants us to do—to build a just society where love, peace and justice reign. As the saying goes, "Strike while the iron is still hot," we must be molded into better shapes because we are the hope for a better future.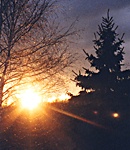 © Christy S., Germantown, NY