Chameleon
November 15, 2012
My whole life, I've never looked up, always facing the floor, not confident enough to swallow my surroundings. When it mattered most, I would stay hidden in the shadows, becoming the chameleon of humanity. Even when the moment wasn't trivial, I didn't look up. I pretended I didn't care. I wasn't myself.

At the age of 5, I didn't look up at my friend's birthday party. I didn't have fun, I didn't go hyper on sweets and crisps, I didn't dance and scream. I stayed quiet and alone, unable to show my real personality.

At the age of 8, I didn't look up at the school disco. I didn't play the games at the front, I didn't join in the conga, I didn't smile. I hid at the back, shielding my private feelings with an invisible force field.

At the age of 11, I didn't look up when I moved schools. I didn't raise my hand in class, I didn't converse with the other students, I didn't have any eye contact. I blended in becoming unseen to prying teachers and aggressive kids. Homework was always in on time, classwork to a satisfactory standard, but never exceptional.

At the age of 15, I didn't look up when I had my major exams. I didn't revise too much, I didn't leave home unless necessary, I didn't become stressed with work. I let no-one in, even when I needed or friend or when I cried myself to sleep.

At the age of 18, I didn't look up when I finished school. I didn't go out partying, I didn't get drunk, I didn't travel. I took a quiet admin job, enough to pay for rent and food.

At the age of 20, my life began. The most insignificant moment changed everything. I was walking down a busy New York street travelled through every day, head kept down low, avoiding any rowdy gangs of newspaper sellers. I studied the grey, concrete slabs that were indented and scratched over the years, feet moving at a rhythmic pace. There was suddenly a vulgar, irregular sound of someone progressing towards me quickly; instinctively I flinched. Someone bumped into me – SMACK! – without apologising for the damage. Rubbing my shoulder, which would undoubtedly have a purple bruise in a few hours, I was in shock. The lights around me seemed brighter, more alive. Thousands of people rushing around me, each with their own lives to lead; they all seemed to be buzzing. I realised that no matter how much I hid, how much I blended in with the rest of the world, how much I convinced myself I was insignificant, I would always come to harm, whether it was physically, mentally or emotionally. Nothing could stop that.
So I did the clever thing. I looked up.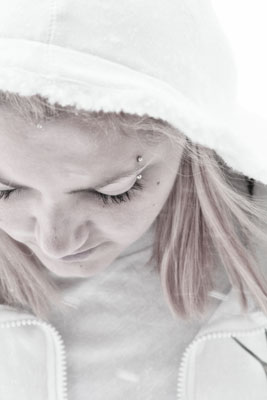 © Jessica F., Bradford, MA