An Infinity All My Own
May 13, 2014
Maybe it was weird to react the way I did. Maybe I was slightly crazed in my behavior. I'm sure most eighth graders wouldn't react the way I did if they had gotten the same gift as me. I was excited. What can I say? I mean, maybe it was a little unnatural how happy I was, but it turned into my best friend.

That day I was going to different garage sales with my grandma and my aunt. It was just a regular girls day. I hadn't found anything of particular interest until I stumbled upon an old vintage typewriter. I had wanted it so bad, I begged my grandmother to let me get it. I would pay for as much of it as I could, and pay the rest back to her later if she helped me in what I called a "financial crisis."

"I already got you a typewriter," she responded proudly, seeming to burst with the excitement of how my reaction would be. I dashed out to the car with her, rain dripping down my dark hair and staining my pale arms. I still had my summer freckles across the bridge of my nose, and I remember how my hair-smelling of Tresemme conditioner-stuck against my forehead and cheeks from the icy rainwater. The clouds were gray, but I was happy. I was ecstatic. To sport a career in writing has always been my one true dream. I had the tool to do it now. I know, I know. Wouldn't I much rather have a laptop? It would've been easier. I'm vintage at heart. I love all things antique and vintage. I have three Polaroids, and a typewriter. I have two Elvis records, but I have no record player yet.

My preference of things to do was stay inside and write on inclement days, listening to Of Monsters and Men or Panic! At The Disco. The click tap of the keys comforted me in a way that words could not. It's an unexplainable feeling to love an inanimate object so dearly, especially one that other people can hardly relate with that often. I love the typewriter so much that at times I would type gibberish, just to hear the clicking of the keys, and the shhh sound as I pushed the bar aside, back to the beginning of the page. It was like a quiet whisper between me and my words; a quiet world where I was with myself, no one, and yet everyone all at once. I was with myself and my characters. They could not bother me. They only lifted me up.

Song lyrics were my favorite thing to type. I would cut them off the page and paste them on my notebooks, or use them as bookmarks. My favorite lyric that I would type infinitely were the words "I know the world's a broken bone, but melt your headaches, call it home." It meant so much to me for some reason. It affected me the way it couldn't affect other people, especially when I was typing it on the gift that my grandmother gave me as a simple gesture, yet I treasured so much.

I will continue to use that typewriter. It frees me from the nightmare that is reality, as any writing does. It will be my memento throughout the many years to come, and words can not express how truly grateful I am for that. It's an infinity, all my own.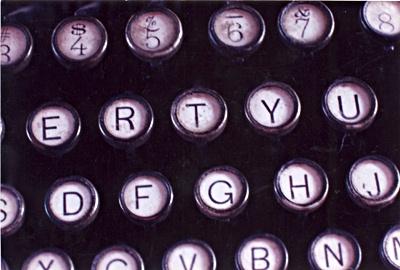 © Mary A., Fullerton, CA