The Smell of Rain
May 18, 2015
The rain has been ever elusive all day. The smell has come and gone. More than one smell actually. The usual after-rain sort of earthy clay-like smell was there, but mixed with others. Like the breezes from between the damp leaves still hiding in the corners of playgrounds left over from September. There was also small hints, once every few hundred breaths or so, of the dewdrop-covered buds forming on practically the end of every branch to be found on a tree. The wet pavement smell was prevalent in and around the neighborhoods with all their sidewalks and streets. Though, it should be said: that newly paved streets and old crackly streets have distinctly different smells. They all sort of mix together in the heavier parts of a breeze. (Which is where all the best scents can be found) At other times moist garbage could be smelled; and, though unpleasant, it went appreciated by some.
  It should also be mentioned that most of these scents could only be smelled in between bouts of rain. Right when the ground is still wet and the sky is still gray, but the air can't be described as damp anymore. Because for some indescribable reason: you can't smell rain while it's in the process of wetting the earth, only afterwords. My hypothesis is that the eyes and ears are too busy to let the nose have a turn giving information to one's brain. Either way the sky stayed wet and dark all day long, but seemed to wait until I was about to go inside, or had just gone inside, to let droplets slip peacefully between the clouds and earth. So, to that affect, my nose was forced to relay the information of recent rain, rather than my other senses relying current deluge. It made the spirits of almost everyone brighter. The regular amount of arguing went on, but nothing is quite as serious when you can stop and hear that familiar pitter-patter on the roof.
  Really, what's not to love about the smell of rain? Even in the middle of the night; the rainclouds left. Onwards, to another town, and somewhere else to cheer up. What was left was the cold, but not necessarily unpleasant, air. More of a comfortable chilliness that's to be expected after a rainstorm. Just cold enough that you could breathe out fog. And enough to prevent you from sitting for too long, (so that the chill can't seep into your muscles and bones) and not enough to make you shiver. Left along with the pervasive freeze was one last midnight smell. One that draws beck to autumn downpours. The neutral smell of decay; not bad, just a reminder of things past. This last little hint of worms and damp plants. All this left with a clear sky behind the storm. The smell of rain, and a perfect view of the stars at the same time? Now the divine is just painting sensory masterpieces. And what more is to be expected after such a gentle reintroduction, to rain?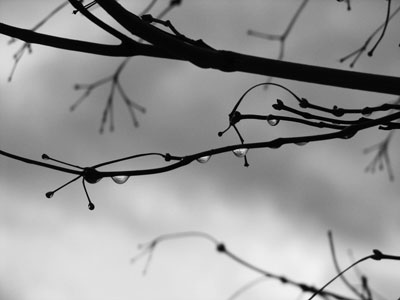 © Carly M., Hopedale, MA