The Saxophone Strategy: How Bill Clinton Changed How People Campaign
December 29, 2018
It's 1992 and the world is rapidly changing. The presidential election between Republican incumbent President George H W Bush, Democratic Governor Bill Clinton and Independent Ross Perot is capturing the nation. Bush has lost a considerable amount of support, Clinton is seen as untrustworthy due to the Gennifer Flowers and Paula Jones scandals, and many people don't even know who Ross Perot is. To have any kind of chance at toppling President Bush, Clinton needed to win over a crucial demographic. He needed minority voters and young people on his side. Fast forward to 2018, and Bill Clinton is now considered a former president and George H W Bush only served one term because of the 1992 election. How did Bill Clinton, a little known governor from Arkansas at the time, manage to win the presidential election? How did we win over young people and the minority vote?

It all has to do with two things, The Arsenio Hall Show and a tenor saxophone.

At first glance, these seem completely unrelated. What does a tenor saxophone have to do with The Arsenio Hall Show? And how is Bill Clinton involved? If you either didn't know or you weren't alive when it happened, then Governor Bill Clinton did the unthinkable. He played the tenor saxophone on The Arsenio Hall Show while he was campaigning to win the White House.

Yes, you read that correctly. Furthermore, it changed how American politicians campaign forever.

When asked about it on Queen Latifah, President Clinton replied in part, "I just took a flying leap and tried it, and I liked it." It was indeed a risky move, and he received a lot of backlash from it. Torie Clarke, President George H. W. Bush's press secretary commented that, "I thought it was embarrassing, he looked like a sad John Belushi wannabe." Barbara Walters went so far to call the appearance "undignified" but in the long run, it did a lot more than just revive a campaign.

Firstly, it humanised him. Danny Spiegel from TV Insider noted that previously, serious presidential candidates were restricted to serious news programs. Clinton's campaign was struggling, and they were low on money. This PR appearance was risky, but Mandy Grunwald, Bill Clinton's media adviser for the 1992 campaign, noted that Arsenio Hall "was serious with guests and oftentimes talked a little policy." For a little known governor trying to defeat a once extremely popular sitting president, that sounded ideal. Looking back on it, Clinton told Queen Latifah "I think people like it when politicians think about something else other than politics every once in a while." That was exactly what he did. When Queen Latifah introduced the segment talking about this pivotal moment in American politics, she reminisced about how she felt watching it herself. "I'm voting for that guy!! I've gotta vote for that guy!!" She exclaimed and Clinton laughed. Based on her comments, we can see that the Clinton campaign strategy to go on The Arsenio Hall Show and show his human side by playing the saxophone definitely had the desired effect.

Clinton's well documented love of jazz music made him very popular among minority voters, specifically African American voters. Historically, the African American community has always had a connection to jazz music. Well, they created it. The New Orleans jazz form is treasured in African American history. It cemented their place in music and culture, having both an art form outlet and the hope that they won't be looked down upon since they bring this great music. Figures like Miles Davis, Louis Armstrong and Ella Fitzgerald are treasured. To African-Americans, their jazz creations are part of the American story. To have an American president acknowledge the importance of jazz music as well as share their love for it means a lot to them, and Bill Clinton knows that. African Americans immediately adopted Clinton as one of their own since they feel like their experiences fit in with his. Playing the saxophone just tipped their favorability over the edge, and Clinton got their votes.

So he's a real, jazz-loving human? How did that sway young voters? In the age of MTV and Kenny G, music spoke to young voters and so did Arsenio Hall. They wanted to get out of the same old rut and bring real change to the world in a wild economic time. They found that "change maker" in Governor Clinton when he defied typical political norms by going on a late-night talk show and playing a well known song on the saxophone. I can confirm as a young person myself, voters thought that was awesome. Just seeing a presidential candidate have as much fun as they would make them think that his future was the best one for the country. To them, President Bush represented the old political norm that they wanted to do away with because for them, the system wasn't working. They wanted change, and when they saw Governor Clinton be bold and try something new, not only was it cool by itself, but the deeper meaning was that Governor Clinton was the future. With that belief came the young vote.

Ever since then, going to a late night show like any of the Tonight Shows or SNL is practically a rite of passage for a presidential candidate. Seeming likeable is important for voters, and it can make or break a campaign. That's what partially brought down Bill's wife former Secretary of State Hillary Clinton, that's what ruined Senator Ted Cruz (R-TX) in the Republican primaries against Donald Trump, and then Senator Barack Obama (D-IL) seemed much, much more likeable than his opponent, the late Senator John McCain (R-AZ) and that's how President Obama won his first presidential election. Going on other programs besides typical news shows has proven to be effective, and presidencies have been decided because of the personality of the candidate. To think this reformed art of campaigning all began with Bill Clinton, a tenor saxophone and The Arsenio Hall Show.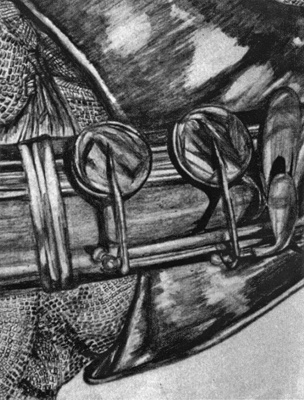 © Kelsey B., Cohasset, MA