TIME
May 2, 2009
For better or for worse, time elapses me at every tick of the second hand. Frequently I find myself leaning on the windowsill, staring past the housetops at the pink-hued horizon. I try to recollect the past months, even weeks, but I find it hard to compile a full stack of memories. I reconcile that it is much simpler to remember personal achievements and happy moments. But the time where everything seems the same--uninterrupted by any element--those times are gone with the wind.

Sometimes I wish I was a character from a movie. The protagonist or one of the sidekick, just to be part of the adventure. I've always liked the idea of escaping this world of mine and trading it for another. The make-believe world seems so perfect. It's hard to resist such longing. If I can't be a character from a movie, I'll just pick up a book and read. In a minute or so, I will be transported to this world that's been created by the author. So surreal, but you can't help but drown in the fantasy. I would be on an adventure with the characters and leave my own world behind. I would forget everything for that one hour, and focus on the story behind those written words. It would be as if I were there with them. Nevertheless, when the final page is read, the magic will soon disappear. I'm once again in my world; bemused and neglected. Time caused it all...

How dull it is to stay at home. There's nothing more than the television to watch. Perhaps there is a good side to an on-screen entertainment. I have the chance to see a better life, if not the best. It may be good to enjoy other people's misery, or more correctly, the actors' desolation than to experience my own. Yes, that is very enticing. However, that's not my character--not me.

Time passes more and more slowly when gloom prevails me. But more quickly when happiness rains upon me. When I look back, those happy moments--the ones I cherished so very much--had escaped from my view, leaving me with only the fading memories. If I could go back time, I would do things otherwise. Maybe those I regretted, or those I just want to make better. But in doing so, I'm erasing my mistakes--hundreds of thousands of lessons learned and that I wouldn't do again. So will I go back in time to make things better? I guess I wouldn't. There's no point of thinking about what could have been. But it is a nice thought to brood over when I'm depressed. Not a possibility to dwell on. Barely a chance.

Time.

They're so precious, those delicate things. They go forward without a care about the world. If we were time, I wouldn't be sitting here typing this frivolous piece. I would be out somewhere enjoying myself. But hey, there is some sort of pleasure in writing this. Letting my thoughts fly away into the empty space is as wonderful as any day in the sun.

Time.

What I wouldn't do to freeze it.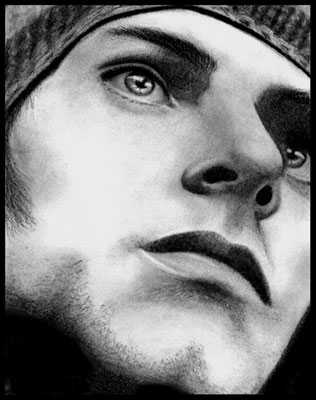 © Anna Y., St. Robert, MO