Finding Your Identity With the "Brat Pack"
December 12, 2009
Finding one's identity is a key part of growing up and becoming mature. Identity is not just something that is given out, though. He or she must find or earn it. The movie The Breakfast Club relates to finding one's identity. It is about five highschool students who must spend a Saturday together in detention. All five teenagers belong to different cliques in school and have completely different friends. They gradually open up to each other and discover they have more things in common than they thought. Three of the five students learn these things: grades are not everything, looks are not everything, and that there are more important things in life than winning.

One character, Brian Johnson, is described in the movie as "a brain" struggles to find his identity. His parents make it hard for him to do that, though. His parents push him to have good grades. While explaining his reason for being in detention, he states, "I can't have an F. I can't have it. I know my parents can't have it. Even if I aced the rest of the semester, it's still only a B. Everything's ruined for me." Brian receiving an F leads to his depression. He brings a hand gun to school attempting to kill himself, and that is why he is in detention. Brian overcomes this and finds that he is meant to be "a brain." When the principal, Mr. Vernon, tells everyone in detention to write an essay on who they are, everyone agrees that Brian should write one essay for the whole group. Instead of an essay, he writes a letter to Mr. Vernon, explaining that they know who they are but he will see them as he wants to see them. After writing it, he feels a sense of pride and accomplishment. He is finally satisfied with himself.

Claire Standish, "the princess," struggles with her identity just as much as Brian. She does not want to hang out with anyone who is unpopular. When talking to the group she confesses, "I hate it. I hate going along with everything my friends say." Claire is nice to everyone in detention, but only because her friends are not there to tell her to do otherwise. She openly admits that her parents use her to get back at each other. She acts like she does not care that this is true when she actually does. She overcomes her stuck-up ways when she realizes that the people she is in detention with are not all perfect or as popular as her, but they are all, for the most part, nicer than any of her friends. Finally, she simply does not care anymore.

Last is Andrew Clark, "an athlete," who also tries to find his identity. Andrew has a dissatisfactory relationship with his father. He always pushes him to be a winner in wrestling. Andrew explains his father by saying, "He's like this mindless machine that I can't even relate to anymore." Andrew feels so pressured to be a winner that he says, "You know, sometimes I wish my knee would give and I wouldn't be able to wrestle anymore. Then he'd forget all about me." Andrew finally finds his true identity when he realizes that his father will always push him, but he needs to learn how to not let it bother him.

Brian, Claire, and Andrew all overcome their struggles and find their identities. First, Brian finds that he is meant to be "a brain." Next, Claire finds that it should not matter what her friends say. Finally, Andrew finds that his father will probably continue to push him, but he cannot let it bother him. Identity is shaped by the challenges that are faced and overcome by that person. The problems that slow you down help to shape a person's identity and make them who they are.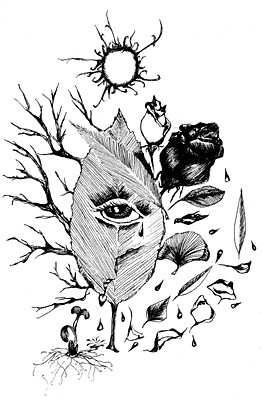 © Cara L., Cheney, WA