It's Just Him, Right?
June 20, 2011
I knew I liked him a lot, I knew I believed in love, I just never fully understood what it felt like to be in a position where your body freezes and your mind goes blank. How my stomach clenched and my mind twirled, a taste so sweet overtook my mouth and I felt my heart skip a beat in that one second.

Everything had been going so nonchalantly, butterflies flew around in my stomach as strong as rhinos, but I held my ground. I hate my flirting techniques, because instead of being cute, it seems I'm starting a debate. That's what it was like, who knows what we were talking about, eventually every word we said flew into the fading blue lockers. He was bent over stuffing heavy books into an old backpack.

I never thought of myself as beautiful, never gorgeous, always decent at best. I was constantly aware he was out of my league, but I didn't give up. He was on the edge of a flawless appearance, you knew that the moment you saw his freckled face from a distance. Brown wavy hair and a cocky smile had too many girls falling for him, I was probably just another one of them. Even though he looked nearly perfect, his personality was so far off. He truly was a snotty teenage girl at heart, but something told me he's worth it.

I'd been a okay debater since my first fight, but whatever flew out of my mouth that day had honestly stumped him. He sat there for a second motionless, then slowly turned around to face me.

At that moment all the noises of the cluttered hallway disappeared and my hands fell from my hips. All of sudden I was completely self conscious and I couldn't careless. He looked me straight in the eyes with a slightly parted mouth and just stared with his green eyes. Anyone else in the hallway would have noticed how idiotic he looked, just crouched there saying nothing. I noticed, too, but I was passed it considering how I may have looked the same.

I ruined what-ever-it-was with a shrug and a know-it-all smile. Still silent, he nodded and twisted his overstuffed backpack onto his shoulder. Though he was shorter than me, I felt like I was two inches tall. His lips snapped shut and he jet into the room. I fell quiet and stared at where he left for a moment, then walked in the other direction.

Today, I'm getting over him and I never thought it'd actually be hard.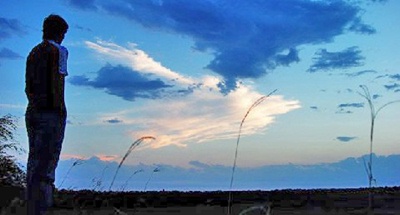 © Stefanie K., Katy, TX