It's the Cat's Meow
December 15, 2011
Cats. Are you kitten me? Cats are the funniest things ever to bless the planet earth with their godlike presence. The reason I like cats is because they're funny. No, I don't like them because they're nice or because they have "great personalities". To be honest, I could care less that they require almost no maintenance. I only like cats because they are funny.

WHO CAME UP WITH THE CATS SAYING MEOW?! What kind of word is meow, who says that?! Well, cats, obviously. When a cat comes up to you and licks you with his or her sandpaper tongue, it leaves you asking yourself, "Whuuuuut?" Have you ever been at your friends house and they have a cat and all the lights are off in the room and you look over and BAM! There's the cat. Just looking at you. It's eyes, yeah, those babies GLOW!

Oh, and the play? Have you ever seen the play Cats? First off, when you get to the theater, you're expecting to see a great show going into long detail about how the domestic cat came about, am I right? Well, apparently, I'm wrong. I get to the theater only to find out it's a bunch of randos dancing around in tights?! And, this play? Its about one mean cat, what's his name, McCallister?! The mean cat is hated by EVERYONE…I don't even know why. Then, there's Isabella, the glamorous cat. HOW CAN A CAT BE GLAMOROUS?! THIS IS AWESOME. Who writes this?! No wonder it was on Broadway.

A cat pun here, a cat pun there, there's always a paw-sibility to get one in.

And fur balls. WHAT!? HA. How does the hair even get into the body? It's fishy, if you ask me! The way they over react is great. Any time they're about to cough one up, its like nothing in the world is right. A genuinely catastrophic event! All of a sudden they stop, look at you, and it's like the world doesn't resume until this small (but occasionally a bigger one) collection of hair is out of this cat's system…NASTY.

A cat's best friend is yarn, that's no question. Cats aren't man's best friend, they're not even another cat's best friend. Yarn. Correct me f I'm wrong but the only other people I've ever heard of using yarn is my Grandmother's knitting club…how do they even make money by making yarn anymore? These are the questions that haunt me.

What I really don't understand is why nobody else thinks cats are as funny as I do. Sure everyone on the internet thinks they're funny, a theory proved by the growing number of websites dedicated to funny pictures of cats, but all of my friends, family, and coworkers just think I've gone kookoo for kittens – which, I can assure you, is 100% untrue.

What do cats even eat? TUNA?! WHAT?! Tuna, that's funny. The chicken of the sea. I've never had tuna, but I bet it tastes mice.

You know what else is funny? Cats in clothes. But not just like "Oh, he's wearing a t-shirt." No. I'm talking full out. Hat, shoes, sweater, even little bowties for their cute little fur. Hats. Hats are the best! Have you ever seen a cat in a hat?! …no, not the movie. A cat. In a hat. Not smiling. An ANGRY CAT in a hat. Those are the best – the funniest. Cats on Halloween? Ugh, better than a newborn dressed up as a freshly picked strawberry, that's for sure!

Naming a cat. Now is that not the best part? I like it when dogs have human names, but when cats have human names, its just kind of awkward. Like, I would never name my Siamese Michael. What kind of name is Michael for a cat?! Mr. Snuggles? Purr-fect!

I see myself as a dog person, and I always have. To be honest, I think I'm allergic to cats. No, actually, I'm positive I'm allergic to them. Ah, well…At least the internet has an everlasting supply of them. Meow.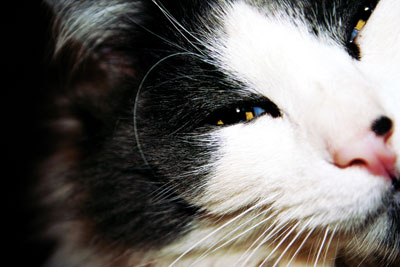 © Monica L., St. George, UT