Nail Polish
October 4, 2013
When was the last time you painted your nails? When was the first time people painted their nails? Incas were known for decorating their fingernails with pictures of eagles. The Chinese painted their nails with designated colors. Can nail polish be used to indicate social order?

Nail polish seems to have been originated by the Chinese around 3000 B.C. but has also been used by the Japanese and Italians who are thought to have been the first ones to actually to use nail polish. The Chinese used a colored lacquer that was made from a combination of gum arabic, egg whites, beeswax and gelatin. They also used a mixture consisting of mashed rose or orchid petals combined with alum. When this mixture is applied to the nails for a few hours or overnight, it leaves a color ranging from pink to red. The Egyptians used brick colored stains from the henna plant to color their nails as well as the tips of their fingers.

During the Chou Dynasty of 600 B.C., Chinese royalty often used gold and silver to improve their nails. A fifteenth-century Ming manuscript states red and black as the colors chosen by royalty for centuries before the Chou Dynasty. The Egyptians also used nail color to signify social order, with shades of red as the highest. Queen Nefertiti, wife of King Akhenaton, colored her finger and toe nails bright red. Cleopatra favored a deeper rust red. Women of lower rank who colored their nails were permitted only pale hues, and no woman dared to flaunt the color favored by the king or queen.

Let's fast forward to the 1920's-where nail polish really started changing for good. In the 19th century nail polish came to France, England, Italy and the United States, but it was in the 1920's when nail polish really became popular. Many manicure establishments started appearing in France. Inspired by high-gloss car paint, Michelle Menard, a makeup artist, adapted the enamel used for cars into something gentler for use on nails, resulting in a glossy lacquer similar to the polish we use today. Her creation was popular among "flappers" who generally only painted the middle of the nail, leaving the base and tip bare in a style known as "Half Moon Manicure".

The company that Menard worked for perfected her formula using pigments instead of the dyes that were being used, and eventually evolved into a cosmetic house that we still use today-Revlon. Revlon started off only producing nail 'enamel' in a variety of colors that were sold at drug stores and department stores during the Great Depression. However, they expanded their cosmetics at the beginning of World War II to include other makeup as we know it today.

With the help of Technicolor and beautiful actresses, embellished nails became an element of high fashion during the 1940s. Once again, red symbolized regality and was worn by Hollywood royalty. The most famous red nails belonged to Rita Hayworth, a well-known actress whose famous crimson hair and nails danced across the screen alongside Fred Astaire and Gene Kelly.

In the 50's and 60's red nail polish became especially popular for glamorous actresses like Audrey Hepburn and Marilyn Monroe. Red nails will always be a classic, timeless look.

Around 1975, the French manicure made its debut on Paris runways and became an instant success. Jeff Pink created the simple look, the founder of ORLY, who wanted to create a nail style that was more practical and flexible. The French manicure, or more commonly known as French tips, intended to have the whole nail polished clear, and the tip white, while the base was pink, but now has gone into whole other levels! Including having the tips black, sparkled or even having the whole nail and tip two separate colors!

In the 90's the nail polish rules were being altered and was being used on men, particularly the color black, popular in the gothic and rock styles.

Today, nail polish is being worn by women all over the world, and is becoming even more common on men! There is magnetic nail polish, nail polish stencils, nail polish with glitter, glow in the dark nail polish, and many color varieties. Coming from henna stains, to rankings, to the French manicure, where will nail polish go next?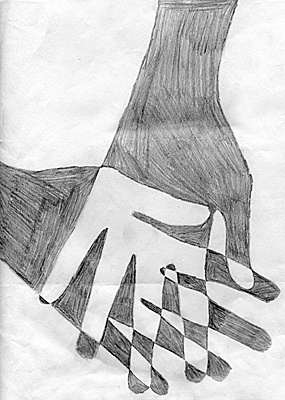 © Warlito B., Tamuning, GU