An American Idol Experience
December 26, 2008
4:00pm Monday, May 19th, 2008. I came home from school and checked my email, as usual. But, as I checked my email, I saw an email from On Camera Audiences, the place where you can get for tickets for American Idol. Since the second season, my dad and I had been trying to get tickets. Ticket selection was a raffle; on a first-come, first-serve basis. The email I received was an offer for two tickets to the Tuesday night finale of David Archuleta and David Cook. I told my parents, and they were debating whether to take the tickets or not, and late that night, they decided yes. I would skip school the next day, and my dad and I would fly from Oakland to Los Angeles. The only doubt we had was getting actual tickets. The email offered us vouchers, which meant we would stand in a line and hope we would get tickets. Nevertheless, my dad and I took the chance.
5:00am Tuesday, May 20th. Dad and I boarded the flight at the airport. My carry-on was my bag with my outfit all picked out. A cute sparkly, black dress I wore to Homecoming earlier that year, with a headband and matching shoes. When we got off the flight, we raced over to the car rental place, where I got ready in the bathroom. Shimmying into a dress and putting on makeup in a bathroom can be very difficult! After that, Dad and I drove and drove until we found the Nokia Theater. Well, we saw the line of people waiting for tickets before we saw the theater itself. We parked the car and had to leave everything- including cell phones and cameras- inside. We were told that we weren't allowed to line up at the theater until 9am, and when we arrived at 9:45, there were a ton of people already there. We stood in line for almost 3 1/2 hours before we found out if we would get into the show or not. The amount of people around us was unbelievable. Everyone from ages five to fifty-five were dressed up, anxiously awaiting the possibility of seeing the finale. I also had a sign for David Archuleta that my mom helped me make at midnight. The sign said "Archuleta" down the side and it said "Awesome, Rare, Cute, Hawt, Unbelievable, Lovable, Extraordinary, Terrific, Ah-mazing".
We soon found out that the American Idol executives were letting in around 1,500 people in for the dress rehearsal and 7,000 in for the actual show. After waiting in line for endless hours, we found out we were numbers 915 and 916. That meant we could see the dress rehearsal and show! Our excitement slowly wore off when we went inside the theater and realized that we would have to wait even longer. Still, being in Los Angeles, at the famous Nokia Theater, and being thisclose to watching the American Idol Finale live was spectacular. Over two hours later, we were taken inside. We didn't have to sit the assigned seats we got for the show, so Dad and I ended up sitting right next to all the producers. I met director Bruce Gowers and director/creator Nigel Lythgoe (who is a judge on So You think You Can Dance, one of my favorite shows!). Bruce and Nigel both saw my "Archuleta" sign, and they both asked "What's h-a-w-t?". I tried to explain that that's the teen way of spelling "hot", and Nigel was all like "Hot?" with his British accent. They didn't understand it, but the entire scene was pretty funny! At one point, Ryan Seacrest came down our row to film for a moment, and I got to shake his hand as he was walking by me. The rehearsal was over soon after, and when the show started at 5, the theater became a madhouse.
Literally thousands of people came rushing in, and the show began. I was screaming so loud, the people in front of me (it was a mom and daughter) got irritated, but I didn't care. I was actually at the American Idol Finale! So, I screamed even louder just for them! During commercial breaks, we could see what the performers really were like. And the Davids were really, truly getting along. I won't forget when David Cook picked up David Archuleta and pretended to throw him into a big group of girls in the audience. It was like they were long time friends who were just hanging out!
Our flight home was at 11pm, and I went to bed around 1:30am. I couldn't really afford to miss any more school, so I went to school the next day. I had only told a few close friends that I was going to go, because I had texted them after our flight. Somehow, my entire health class found out and my teacher, who loves American Idol, made me share all about it. Throughout the day, I just kept telling the story over and over again. One of the most popular questions I got asked was "Is Ryan Seacrest actually short?" (For your information, he's my height, like 5'5"). My family had TiVo'd the show when it was on television, and we watched it that night. It was my third time seeing the Davids perform those songs! Dad and I showed my family where were sat, and for a split second, you could catch a glimpse of me holding up my Archuleta sign…
Thinking back on it, over eight months later, I can't believe all of it actually happened. Not many people can say they skipped school to fly to L.A., shake hands with Ryan Seacrest, and watch the Tuesday night finale of American Idol live. It was one of the best nights I've ever had, and I will never forget how lucky and fortunate I am. After years of waiting for American Idol tickets, I finally received them and had the time of my life (even though we did wait in line for a total of 7 hours that day). I'm just a normal, crazy, girly, Cali teen who received an amazing day all thanks to an email for two American Idol Finale vouchers. I used to think that things like that can never happen to someone like me, but now I realize that sometimes, they really do happen. I'm truly lucky to have experienced this spontaneous trip to American Idol, and I loved every minute of it.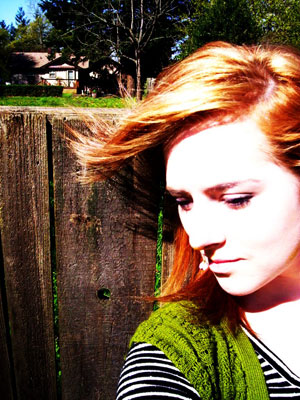 © Anna K., Portland, OR