Comfortable Enough?
MAG
I know a friend of a friend who is going through a lot of pain. Although he is a stranger to me, his pain is familiar. It's as familiar as my favorite pair of ballet flats, the light pink ones with the cracked sole, faded velvet, with a tiny tear around the edge that makes my left foot slip out as I walk. I think we all have a pair of shoes like that, and as unattractive as they are, we cannot let them go.

Sometimes pain becomes like that old, tattered slipper that fits just right. We convince ourselves that it's comfortable enough to keep because letting it go means breaking in another life, one that may not fit as well as the one we have right now. As hard as we try to keep it, and fight for it, sometimes what we thought was "comfortable" is what causes the blister to form on the back of our heel, or in his case, the center of our hearts. We begin to limp, eventually we're caught off balance, and sooner or later, we fall.

If we're lucky, someone is there to catch us before we fall into a place where no arms can reach. One day we'll put on those old shoes and realize that they really don't fit. We'll pick them up and turn them over as we remember how they once seemed to be the only thing we could wear. Then, we'll see all the cracks and tears in the foundation we've walked on and decide it's time for a new pair, time for a new beginning.

It may be awhile before we throw them out. They may sit in the back of our closet, buried beneath the new ones we've tried to replace them with. But just as spring always promises new life, they will find their way to the top of the pile in time to make Tuesday's garbage pick-up. As soon as we toss them in the trash can, a small pang of guilt and "what may have been" may cause us to hesitate. But then we'll glance at our feet and notice how the limp has slowly gone, and we'll let them go.

We'll close the lid, walk away, and forget about it, for time has helped us realize that there are more shoes out there. And when the garbage truck rolls around the next time we'll be waiting with yet another pair of old shoes that no longer fit.

So, to a friend of a friend, and anyone else who has experienced this on-going limp: empty your closet. Try on a new pair of shoes.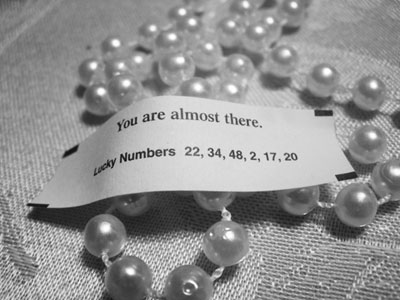 © Anonymous