The Modern Cobbler: Christian Louboutin
February 3, 2017
"Cinderella is a proof that a pair of heels can change your life", the legend Christian Louboutin who is a major designer and actor claimed that these type of shoes are one of the most fashionable on the market which young people like. They are pretty expensive but if you really want to invest in a bold, good quality shoe then these are probably the right choice. Having these type of shoes within an extreme level of spikes and crystals makes you feel special in a kind of way. Your feet feel different and awesome at the same time.

But behind everything is the creator and designer, Christian Louboutin. An intelligent person who never cared of how comfortable a shoe is, but only cared on the appearance it had. "I hate how people who like the concept of comfortable, to me it seems like they're saying, it's like people say we are not really in love but we are in a comfortable relationship." As a matter of fact, this guy hates making his shoes comfortable and his main objective is the appearance. This is something many are willing to sacrifice in the pursuit of fashion.
Louboutins career started as a failed actor, starring in a few movies here and there. After having a failure in his life he decided to share his drawing portfolio which had drawings of high heels. He presented his portfolio and after he had major success because of the Parisian's ideas to make the drawing come to life. After it had a huge boom and became famous in the new trends of fashion. The guy who got kicked out of school 3 times actually became a millionaire.
Anyhow, why do people invest money in such an expensive product which will only last a couple years? Well tell me one shoe brand that has pure leather, spikes, sparkles, and all different kinds of snake skins. Well this is the only one I know that's a bestseller. The news of fashion has declared that over the past three years Louboutin has fully dominated in most of the female buyers and has marked a record of sales. Products which are bestsellers sell within a week and take a month to produce again. Alternatively, taking a look to all of those statistics, you can't even imagine how powerful their business has become.
Therefore, why are Louboutins' shoes so irresistible and why do girls dare its pain just to have them on their feet? Women dare the pain because they know men love their appearance and can't resist the look of a women in Louboutins. Women like the way it matches their dresses and jeans. For them it's just the topping on the cake. It's really powerful how it has influenced them to invest thousands of dollars on shoes which after all cause bruises on their legs and makes them immovable the next day.
After all I think that they are actually quite amazing. I like how the sparkles and it's spike represent it's powerful symbol. Also their iconic red sole on bottom is a great representative of the shoe. It's not normal because no one tells you, wow, look at those Adidas shoes. If you actually wear Louboutins people are going to be surprised whether they like them or not. Some people think it's all exaggerated; however, I love them. They are one of my favorite shoes and I suggest all people who can afford it to at least buy a pair once. There is always a first time for everything. So, have a try and it will not let you down, I promise.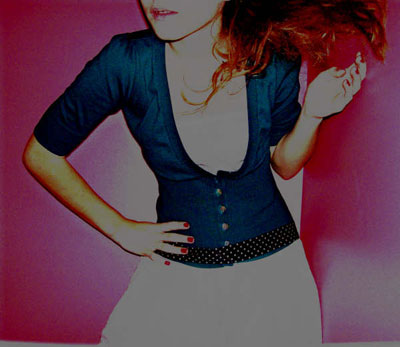 © Jenna V., Hamilton, ON, Canada