Sundoss Shad: English • Lahore Grammar School
MAG
January 28, 2015
After reading Roald Dahl's Matilda, I began to dream of a homeroom teacher who was just like Miss Honey: sweet, loving, and caring. It's every student's dream to get a teacher who doesn't just teach you but treats you like her own. In ninth grade I met such a teacher, and I wished she were not only my Language teacher, but also my homeroom teacher. (I know, I ask for too much.) She was like Miss Honey, only ten times better. She wasn't someone who would teach a class of kids their ABCs just because she got paid; rather, she was someone who put her heart and soul into what she did, and she loved every one of her students.
What makes her stand out from every other teacher I have had is the plain fact that she teaches us a variety of things, all in an hour and thirty minutes. Those lessons are enjoyable, interesting, and easy to remember. We'd be reading a comprehension article on grave robbers, and she'd explain the entire history, science, and logic behind the actions of a character. We'd have to attempt an essay, and she'd link it to real life.
She's like an encyclopedia – she knows everything about everything, and I really mean it. And what she teaches us doesn't just sleep in our brains, it makes us think and wonder about the world. Teachers are only successful when their students want to learn more after being in class. And I swear, I always wonder about and research what she tells us. I am so impressed that I want to be like her when I grow up.
She's a teacher with whom you can talk about anything: your grades, your essay, what goes on in your brain, celebrities, or even the latest Disney movie (she loves "Frozen"). I have grown so attached to her, it's like we're an extended family. She's a teacher who taught my friends and me to be better.
She isn't just a teacher; she's a friend. And I am lucky to have such a teacher. So, of course, I was jumping with joy on the first day of tenth grade when she told us she was our homeroom teacher.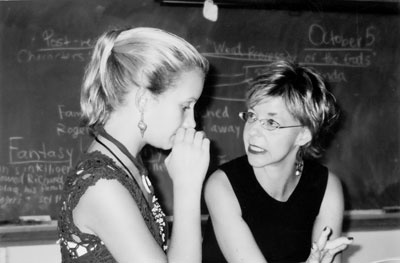 © Olivia L., Pompton Plains, NH