John Melidosian: Guidance Counselor • John Dickinson High School
MAG
February 2, 2015
I walked into the small office for the first time and read the sign with teary eyes: "9th Grade Guidance Counselor." The sign told me I was in the right place, but it didn't hint at the boundless support and comfort I would receive from the man inside the office.
He looked young, with brown hair and a humorous gaze that I would later get to know. He always looked as if he never got quite enough sleep; I knew the feeling. It was very easy to get along with him, and I found myself in his office regularly. I didn't realize then that we were forming a friendship through our counseling sessions as we snacked on chips and salsa, or took countless walks through the hallways, talking about life or nonsense. However, I don't think I would be here now, two years later, if it weren't for Mr. Melidosian.
Meeting Mr. Mel in ninth grade allowed me to develop a trusting relationship since he was also my tenth grade counselor. I always went to Mr. Mel with my problems – both school and personal – or just when I needed to de-stress and talk. He became more than a counselor and teacher; he became a friend. He was always supportive, especially with what I went through last year.
During the fall of my tenth grade year, my mother, who'd struggled with multiple sclerosis for 23 years, had a stroke that severely damaged her brain. She suddenly became unresponsive and had to stay in the hospital, eventually leading to hospice and the end of her life. Throughout those days of emotional turmoil, I sought comfort and desperately wanted to escape my responsibilities at school. Mr. Mel understood that and did everything he could to make sure I was okay, even if it meant just spending lunch with me. Mr. Mel knew my mother and had helped me through problems with her even before her stroke. He never pretended to know how I felt or told me it would get better; he just stood by me. That was really all I needed.
On the day of my mother's funeral, I was in the procession going to the cemetery. I got out of the car and began walking to the plot. After I looked around at the familiar faces of my family, I saw two that surprised me. Mr. Mel and our assistant principal, Mr. Kohan, approached my sister and me. Their sincere smiles made me feel that I was not alone. Mr. Mel handed each of us a card signed with condolences from all of our teachers.
I'm extremely grateful for what Mr. Mel has done for me, especially because he never had to do any of it. He has an extremely difficult job, not only guiding students but also taking care of all our schedules and classroom-related problems, as well as coordinating anything you can think of. For him to take so much time to help me means more than he will probably ever know.
Now, as a junior, I am beginning to research colleges and decide what I want to do in life. I am inspired to teach, because I want to reflect the many great qualities my teachers have shown me. I want to be someone to a student, that same someone that Mr. Mel has been to me. I believe that nobody should feel alone or as if their life doesn't matter, especially during their vulnerable teenage years.
In the past year, I've become more confident and mature. I still give Mr. Mel high fives in the hallway, and occasionally stop by his office to bother him. Although I don't have much time to talk anymore, I want him to know that he has made a difference in my life. He has taught me that many of our troubles won't last forever, but even the ones that do – like grief – won't always burden you in the same way. I'll never forget my mother, but I know now that despite my struggles, I can accomplish anything. And there's nothing wrong with getting a little help along the way.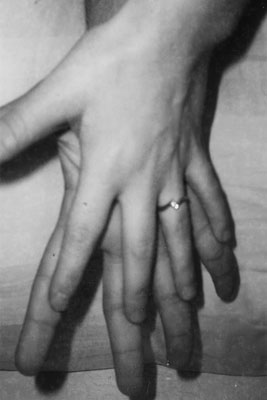 © Heather H., Phoenix, AZ