"That's So Gay"
November 16, 2011
You've heard the expression before. You might have laughed at it. Or maybe even used it.

But now I'd like you to listen to this, and think next time.

The other day, as my friend and I walked by some guys, we heard them say it. Of course, it was referring to something negative. Probably like, "I can't believe Mr. Herbert put that question on the test." "I know, that's so gay."

I heard it and cringed, knowing how offensive that is to people who are gay and to people who aren't. They were labeling someone based on their sexual orientation, and they judged them based on it. It's like turning a personality trait into a curse word. It's incredibly disrespectful.

But instead of saying this to the boys and giving them a good long lecture on prejudice and stereotypes, I just kept walking, like a coward.

My friend, on the other hand, stopped them right away.
"I just heard one of you say 'that's so gay,' please don't say that again, it really isn't nice."

And then we kept walking. I looked at her in admiration. She was a hero in my mind. She said what you only read about in childrens' books when one character stands up to the rest and then everyone nods and lives happily ever after. I didn't think anyone actually had the courage to say things like that in real life. It would be like doing the impossible...but I guess I've never tried, so I wouldn't know.

But she did, and I believe she changed those boys that day. Whether they fully understand what it means to say "that's so gay" or whether they've just heard it said before, they know now that it's not a nice thing to say and it shouldn't be said ever. It's up to them to choose now, but at least they know it's wrong, not just "politically incorrect."

Ever since that day, whenever I hear someone say "that's so gay," I try to conjure the courage to stand up and tell them it's not okay. But I haven't yet.
Next time I will. And that's a promise.

I hope that you will join me and honor my hero by helping to eliminate such phrases and spread respect.
It's a time of change; be part of it.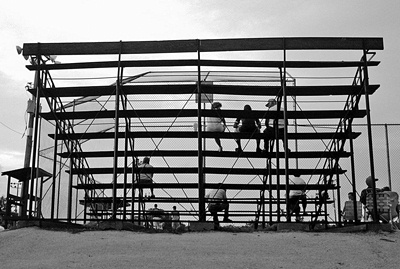 © Katie C., El Dorado Springs, MO