A Chain Reaction
March 19, 2012
Gandhi once said, "Be the change you want to see in the world."
I've always had trouble fitting in with a church; I've never really got along with people in it. Usually the people I meet are too stuck up. So when I recently came to this new church I didn't think too kindly of it, I shut myself around everyone in my youth group because I thought this would be another stuck up youth group. I was wrong, the love that everyone has for one another is so inspiring and empowering, I want to try to open up and get to know people, but when I do usually my parents and I find a new church, or they prove me wrong. So instead I just sit there for an hour and a half and listen to everyone talk. I don't mind though, I love listening to what people have to say.
Last Sunday though would be a day that changed my perspective, and I'm glad I went. We all have heroes in our lives. For me it would be: God, my entire family, Rachel Scott (shooting victim from Columbine whose goal was to change the world), and now two girls from youth group. Their names are Belle and Danielle, two ordinary girls who always have a smile on their face, and fresh new jokes to crack the class up, got serious last Sunday and introduced us to humans trafficking.
The environment went from light to heavy in a matter of seconds. Two girls who are always joking around showed a side I never thought I'd see. They did their research, showed a Fall Out Boy video related to Kony, and spent a good amount of time on the subject.
You might be asking why these two girls who are younger than me are my heroes; well they are getting involved in the community to make a difference in people's lives. They are my heroes because not many teenagers will get out of their comfort zone and do something to help other people like this; sure they may donate a dollar to a charity or to a homeless man. But how many teenagers do you know that will go out of their way to make sure that everyone knows about this? How many teenagers do you know that act like they care about a group of people that society has chosen to overlook?
It's like Rachel Scott said right before she died, "You just might start a chain reaction." And that's what these two girls did, instead of focusing on school, or boys, or friends, they're focusing on something much bigger.
"I had my ups and downs and I fell a few times, but I did not give up. Don't give up, because God's reward is worth it all...I challenge you to listen, and see what God will do. Take a risk, chance it; trust in God...You will see what God can do with a willing heart." - Rachel Scott.
During the sermon I thought of this quote, how many times have these girls wanted to give up on what they thought was right? At the end of the sermon they challenged us to listen, to serve, and to make a difference. They may not think that their sermon impacted anyone, but it did. I will always be just another face in the crowd, especially when it comes to church. I'll still probably shut myself out. But thanks to these girls I'm going to try to get involved, and get my friends involved, who knows we just might start a chain reaction.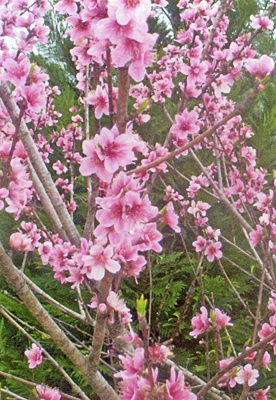 © Matilda S., Perkinston, MS