Lauren H.
MAG
I was asked to write an essay on a modern-day hero who has touched my life in a way that has changed it. I thought long and hard and came to my conclusion: There is one who has been there for two and a half years, guarding me, loving me, and trying to make me happy in every way possible. Her name is Lauren Heflin and she ironically sits next to me in class. She's been through so much, which I admire her for, but even with all that on her plate, she finds time to help me with my problems. This is written in admiration of her.

Lauren and I met through a friend, and ever since that day she has never ceased to amaze me. I have seen her bald, weighing only 110 pounds, and more unhappy than I have ever seen anyone. We became fast friends. She talked about her cancer and how she couldn't believe she was still here, and I talked about my emotionally abusive relationships and how I felt completely helpless. She always knew what to say to make me come to my senses. She is definitely the most warmhearted individual I have ever met.

I remember joking about Lauren's illness, trying to make it seem insignificant, even though I was scared, and am scared every day, to lose her. It seemed to make her feel better - as if I took the cancer off her mind. I don't think anyone could be as strong as she has been for the past three years. She just amazes me, knowing how her life has completely changed and how much time has been wasted at the hospital. Still, she always has that smile on her face and optimism I don't possess.

Of all that she does, she is able to do one thing that no one else can: make me laugh. Oh, my, does she know what to say at the most random moments. I'll have tears in my eyes over something, and there is Lauren cracking a joke to lighten my mood. She is always so willing to give on an emotional level and tries so hard to make my life better. She seems to be the only reason I laugh anymore.

I never thought anyone would compare to my grandmother, but Lauren is right up there. Just like my grandmother, Lauren makes me feel protected and loved. I remember whom I called when my grandmother died. I remember her sharing my pain. Even though Lauren is a few months younger and we are always in competition, she is my hero, the one I run to when all is lost, or just to hear how I look. She is my best friend, my heart, my inspiration, and the only one who understands me. I owe her my life. I hope she knows that.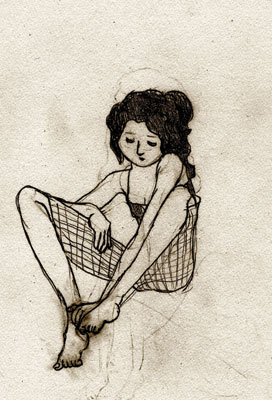 © Anonymous