Riding Instructor Beverly Driver
MAG
Beverly Driver has been my horseback ridinginstructor for 11 years. She taught me everything, from how tobrush a horse to how to sail over a six-foot jump. But mylearning didn't stop there; she taught me people skills andhow to handle day-to-day problems.

Just before I begankindergarten, a woman moved her horses into a barn down thestreet. Every day I found myself at the edge of her fence,peering at the horses. One day Mrs. Driver came over andoffered me a ride on one of her ponies. It was the greatestmoment of my life. From then on, every Friday I was at thebarn, ready for my lesson.

Within a year, I had coveredthe basics. I went from walking on a lead-line to canteringover obstacles on my own. Eventually, Mrs. Driver said therewas nothing more she could teach me. She offered me the chanceto keep riding in exchange for doing barn chores.

Twoyears later, she decided to move. She packed up the trailerand moved her horses to Pennsylvania. She never cut me off,however. Every weekend, I helped her with barn chores androde. We became better, closer friends. While we mucked outstalls, we talked about problems with school, family life,horses and our pasts. It seemed as though we had always knowneach other.

Then we started traveling to horse shows onthe East Coast. We became even closer. We laughed, teased,played games and when another riding student came with us, weplayed jokes on people. Those were the greatest days Iremember.

But like all good things, those fun times hadto end. In 1996, Mrs. Driver retired from the University ofDelaware's agricultural department. She was awarded manycertificates of thanks, but I was crushed. All my dreams hadto be rearranged.

We made our final trip togetherduring her move. She packed the truck to the rim and off wewent. Twenty hours later, we arrived at her new house inFlorida. I stayed for three weeks to help her get settled. Wecried when it was time to say good-bye, but reminded eachother that we would see each other the next year. And we did.Every summer since, I have visited and it seems as though wenever miss a day of talking to eachother.

A day doesn't go bythat I don't think of her. I keep her posted on what's goingon, especially with my riding. I've been to many horse shows,placing well. I owe it all to her. What feels the best is whensomeone compliments me on my riding. It makes me proud to say,"I learned that from my riding instructor, Mrs.Driver."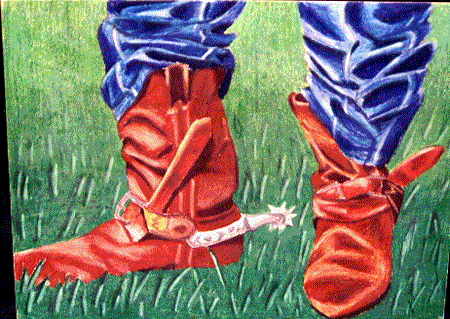 © Anonymous