Soldier Man
December 10, 2013
I've grown up in military family. My Grandpa Ronnie, Uncle Danny, cousin Travis, and Great Grandpa Bob was or is in the military. My Grandpa Ronnie died when my daddy was seven or eight years old. I've always dreamed of meeting him. My daddy looks just like him. Sometimes I wonder if my daddy acts like him to.

I hold a picture of my Grandpa Ronnie in my locker at school. Before class or even school I touch my Grandpa's face and ask him to watch over me today. My Grandfather might have not been the bravest man or the nicest man but from the stories I've heard he would have made a great Grandpa to me.

My daddy use to tell me stories of when he would get drunk. I love the story when my aunts, daddy, and Grandma were on their way home from a camping trip. My Grandpa was drunk and wanted to sleep so he pulled over and climbed into the camper. In the middle of song they were singing my Grandpa's face appeared in the window. He was on top of the truck while going down a highway.

I always get a kick out of that story but that's not what my article is about. My article is about how the stories of my Grandpa in the military enspired me to go into the military. I'm only a freshman in high school so I have a little ways to go before I'm able to follow in my Grandpa's footsteps.

I want to go into the Army. My Grandpa wasn't in the Army but it's the one I chose to go into. My daddy wanted to follow into my Grandpa's footsteps to but he couldn't pass the test he needed to past. My daddy didn't get to follow his dreams but that doesn't mean I can't. My daddy is just another inspiration to follow my dreams. I'm going to do just that. No matter what I have to do I'm going t follow my dreams.

My Grandpa Bob and my Grandpa Andrew's name is engraved on the Community Building's World War one and two plaques. My Granpa Andrew died in the World War. I'm not sure which one he died in but I know he did die. It sadens me to know that but he died protecting his country. Everyone in this story in my "Soldier Man".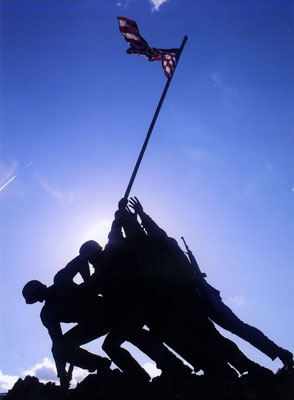 © James M., Glendale, AZ