The Good Sort of Envy
November 12, 2014
I was always jealous of her. I wanted to be her.
Even when we were eight years old, she had her own voice. She stood up for what she believed in - I never had that kind of courage as a little girl, and I still don't think I do.
She was always beautiful: I wanted blue eyes that twinkled more than I wanted life, and I wanted them to light up like hers still do when she laughs, the sounds echoing in the room against the walls. Her smile never dimmed; only the shape was shifted and altered by the orthodontist. She always sparkled. Her hair was silk, spun by butterflies, delicate and lush and straight. Oh, how I wished I could wake up looking like that.
How I wish I looked as pretty as she did when she cried, beautiful even in her moments of sadness. The blue in her eyes would shine like crystals, her cheeks growing red, blood rising to a blush behind her human flesh.
Everyone loved her. All the boys thought she was pretty, though she'd never believe you if you told her. All the girls envied her for her beauty, and I was one of them.
But the other girls didn't know her like I did. they didn't have inside jokes. They didn't spend weeks of their lives taking pictures together, or filming parodies with her. They didn't know that her pretty eyes would only let tears fall when she was in serious pain, like that day her father showed up to school with a cheque, or when she thought I had chosen him over her. They weren't there to fix it. They didn't care. They didn't know her like I did. They didn't know that behind the pretty face was the even more beautiful heart that felt more deeply than they could ever dreams their's could. They didn't know that behind her loud laughs, there was a girl who could never tell how she truly felt. They don't know that that girl still exists today.
They were jealous of her, and so was I. I still am. But they didn't stick around, and I did. I see that she struggles with who she is, even though she knows who she wants to be. I know that behind her confidence, there is a small bit of self-consciousness. I know she doesn't need to feel this way.
I don't know how many times I've told her, and meant it with every fibre of my being - I don't know who I'd be without her. I don't know what I'd do if her presence was missing. There's no one who makes me laugh harder - no one who has shared in every moment I've lived, who has felt my pain and let me feel hers and experience everything together. There is no one like her.
She's as perfect as imperfection will allow us to be, and every day I envy her more: her compassion, her talents, her spirit, her soul.
She's my role model, and she has been ever since we were eight and played house and kitchen in the playground. On most days, she's the reason I smile through the pain.
I wish I could be that person to someone, but I'll never be her. I don't think she understands how jealous I am of everything she is.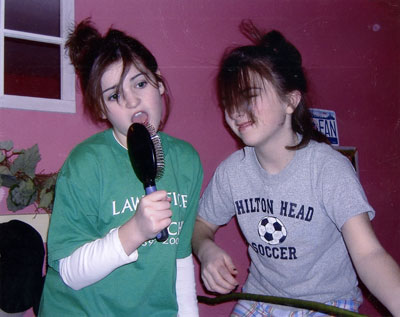 © Grace C., Poughkeepsie, NY