A Fighting Hero
December 16, 2008
Everyone has their own hero, a hero that lives in their heart. For every hero, there are reasons that lie behind them for the price in why they are somebody's hero. I believe the price is measured in tears and struggles -- one who has broken through the storm of life. Perhaps because my hero lives so close to me, I hadn't realized how much she truly has inspired me. A mother of four children Derek, Brooklyn, Kaylyn and Ashlyn and a granddaughter Kyleia, that has struggled her entire life battling heartbreaks from her own children, and still can look me in the eye and say "I live for the precious lives I created."

Born in Arizona, Tammy moved out of a broken home as a teenager and moved to Florida, determined to create a life of her own. In her adventure, she met, fell in love and married John H. at the young age of eighteen. She believed this was the life she went searching for, this would be it. Throughout the span of her marriage she endured terrifying and unforgettable moments, but she already had a life on the way- how was she supposed to leave the father? Tammy remained a part of the abusive relationship until all of her children were born; she loved him, but she had a rude awakening that led her to move to Michigan to be with her family, knowing that her children would never have their father in their lives. Once in Michigan she began re-building her life around her four young children. She found a job in waitressing that earned her enough money to make it by, to get back on track, and then put herself through schooling to work in home health care. Around age 32 she married the man she felt would change her life around, someone who could finally be a father to her children. The marriage lasted a short three years, and throughout it all she never gave up, until one day he decided to leave. He up and left his wife, leaving the hearts of her children broken, once again.

The heartache and stress took over and Tammy fell into depression; she reached out to the bottle to cope and financially the Hoy family began to fall. Months, even years went by before it was recognized as a danger to her health. After three new houses, three new jobs, a granddaughter in the mix, hallucinations, blackouts and terrible fights, she had no where else to turn, but to recover. Tammy was placed in rehabilitation and fought a long battle to a successful recovery and is now three years sober. Once back on the right path, she began working again as a waitress at a busy restaurant seven days of the week, ten hours a day. The struggle to pay rent and all the utilities that come along with living, as well as making sure her children have what they need to make due, caused her to struggle in finding stability for herself and her family through the continuous devastating moments.

She had her heart broken repeatedly by her own children, an incredible let down. The two oldest fell into self destruction of drinking and drugs until one landed himself in prison, which put the final toll on Tammy. She was left with a beautiful granddaughter to raise, because both the mother and father remained absent from her life; she couldn't face letting the little girl suffer because the poor choices her young parents have made. Tammy battled personal insecurities and doubts of her own, but remained strong in the face of her children trying to play a positive role model, and always fought for them no matter how many times they left her in the dark. Unfortunately, her defending her own children led to numerous judgments from her parents, and soon enough she completely lost ties with all of them. They wouldn't accept that she gives everything to them, refusing to push them away, and because of that Tammy is left with no support system from her father, mother or the rest of the family. She fights for her children every single day and gives unconditional love. Tammy acts tough because she has to support her family, but is weakened when shown love because of all the heartbreak in her past. There wasn't a time when she let it be known that she was struggling with money, because she didn't want her kids to know; no matter how much in debt she was, the kids never suffered.
Today she is still an extremely independent woman as she has been her whole life, having to stand on her own two feet, being both an incredible mother and father to her children. Her inspiration lives everyday in the household because she never reaches out for help from anybody; she'd rather struggle than ask for a hand. She's lived through triumphs time after time and the one thing she'd passed onto me is to never give up through the hard times. From rock bottom and back, feeling as though she'd never make it, she is still glowing and holding strong. She's taught me that giving up won't accomplish anything for you; you'll just be left with an abundance of unfinished things and stress. Fight through it, because in the end it is truly worth it. When you're enduring hardships you have to find your inner strength, find a reason within yourself, because there is one, and that's what my hero has given to me.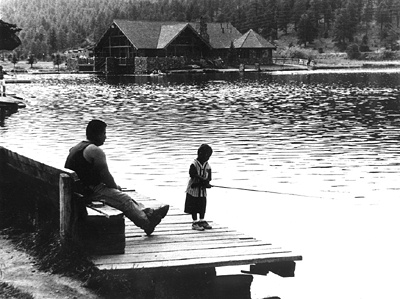 © Ryan P., Greenwood Village, CO