Jehovah's Witnesses...who really are they?
June 4, 2010
Many of us are familiar with the religion called Jehovah's Witnesses. When people hear the words "Jehovah's Witnesses", the first thing that comes to their minds are neatly dressed individuals that come to their door to talk about the Bible. That is because many of us have had such an experience. We know what it is like to speak to a Jehovah's Witness at our door. But most people have no idea what it is like to BE the Jehovah's Witness at their door. I have had the opportunity to speak with a Jehovah's Witness and get to understand the work that they are doing better.
Charles Mienzer volunteers on average, 75 hours of time in door to door preaching every month. Before you even hear your doorbell ring, he is walking up your driveway, ready to share an encouraging thought from the scriptures. Some people believe that Jehovah's witnesses go door to door to give magazines. But that is not the goal of Jehovah's witnesses at all! When asked about what the ministry really involves Charles Meinzer explains it this way:
"I try to fulfill my commission to find those who are sighing and crying about the bad things that are happening in the world today. 1 Timothy 2:4 says that God's will is that all men should be saved and come to an accurate knowledge of the truth. I try to help them understand the hope from the Bible."
But what about those magazines that they give out then? Aren't those mostly what the witnesses are trying to share? According to Mr. Meinzer the answer is no. He says:
"The main tool that we use is the Bible, and my main purpose it to direct people to the truth in God's word. John 17:3 shows that this is very important. I also use other Bible study aids published by the Watchtower Bible and Tract society. But they never take the place of the Bible. At I Cor 4:6 The apostle Paul tells us not to go beyond the things written, so I make sure that everything that I teach is backed by the scriptures, and I use the Bible above any other book or literature in my work."

While the Witnesses do use other publications, they are referred to by them as "Bible Study Aids" and are only used to help people understand what is in the Bible more clearly.
Many people have confused Jehovah's Witnesses with Mormons, but there are very clear differences. Mr. Meinzer explains one of the main differences when he says:

"The Mormons use the Book of Mormon, while Jehovah's Witnesses recognize that the Bible is the only source of divine direction. At Rev 22:18, 19 we are told not to add or take away from the Bible." Deuteronomy 4:2 says the same thing. Both the first writer of the Bible and the last one felt that it was important not to add men's thoughts and ideas to the Bible.
Another difference between Mormons and Jehovah's Witnesses is that ALL Jehovah's witnesses preach from door to door, while only certain Mormons preach. Jehovah's Witnesses view preaching as a lifelong endeavor, While Mormons usually only have a two year commission. Mr. Meinzer is 82 years old, and realizes that the preaching work is not something that you retire from. He has been working for 55 years, and enjoying it.

Some people may find it difficult to stand at their door listening to a Jehovah's Witness. But their difficulty is nothing compared to what a witness deals with. When asked about the most difficult thing in his work Mr. Meinzer mentions apathy of people.

People in my small town are usually friendly, but many times busy, and caught up in their lives. 2 Peter 3: 5, 6, and 7 tells us that the last days would be filled with people who are apathetic, and taking no note of the times we are living in. That is exactly what I see on a daily basis.
Even though some people don't listen to Mr. Meinzer or his fellow witnesses he still feels that the work he is doing is worthwhile, and makes a difference. He shows his positive attitude when he says:
"The work that I am doing is certainly worthwhile. Other organizations can help people temporarily, but the work I am doing is giving people an opportunity to live forever on a paradise earth. Who else is offering that? And it is not only beneficial for tomorrow, but applying, and living up to Bible standards helps people to be happier and healthier today."
So you might still be wondering why you should take the chance to listen to a Jehovah's Witness. Mr. Meinzer gives us a clear answer.

The only sure hope for mankind is God's kingdom. God's kingdom will remove all traces of wickedness and suffering from the earth in the very near future. In order to take advantage of this, people must take in accurate knowledge from the Bible, and take a stand for God's Kingdom. They must take action. John 17:3 makes this clear again. This is really a decision that means life, and death. It all depends on whether they will listen to the message."
So next time a Jehovah's Witness comes to your door, you might just have a better idea about why they are there. You might just take the time to listen!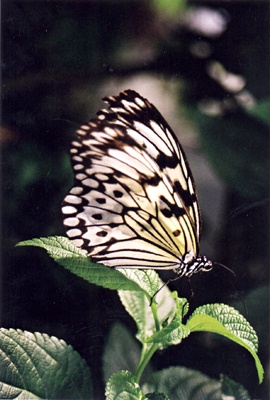 © Courtney G., Rocky Hill, CT