Interview with John Illsey
May 11, 2014
John Illsley was born in Leicester, England and studied Sociology at the University of London. Prominently recognized as the bass guitarist of rock band Dire Straits, John Illsley is also the recipient of multiple Brit and Grammy Awards, and a Heritage Award. Since 1984, Illsley has also released five successful albums of his own. In 1987, John also co-founded Life Education - a children's charity.

After the success of Dire Straits and since the early 1990's, John became involved in painting. He has since held exhibitions in New York, London, Sydney and all over Europe. His artwork is able for purchase on his website. In 2011, Illsley signed Native Roses, an alternative band to his music label. With three albums as of 2012, this blossoming band has proven the apple doesn't fall far from the tree, as John's daughter - Jessica Illsley - debuts amazing vocals.

I would like to thank Mr. Illsey again for his time. The following are his answers, word for word as he replied, via email to my interview questions. I can't think of anyone who would have better advice for future artists, musicians, and dreamers.

Did you come from a musical family? how did you get into music? 
My family wasn't particularly musical, but when I heard the music of the late 50's and early sixties -Elvis ,Chuck Berry ,The Stones and the  Beatles,it had a great impact on me .

What or who were your musical influences? Which musicians or styles influenced you?
Elvis -Chuck Berry, JJ Cale, Ry Cooder, A lot of Blues, Bob Dylan, Van Morrison etc etc

Did you know early on, that music was your calling?
Yes because it had a voice which I felt spoke to me and helped with dealing with adolescence .

How did you get into painting?
I had a great teacher at school who opened my eyes, and helped me look at paintings without judgement. I loved the energy in a confined work of Art and still do.

Looking back, do you think you accomplished everything you wanted to accomplish as a musician?
Still working on that one, music is an endless joy .

Do you have any regrets?
Not really, pretty happy how my life has worked out so far -nothings perfect and shouldn't be .

What's the most important thing you've learned in your life?
Do what you feel and try and do it as well as you can, don't waste your time .

What do you define as success for yourself and/or in general?
Success is real about how you feel in relation to what you do and who you are with others. Patience is good but not easy sometimes.

How do you define happiness or would you say its a result of success?
You don't have to be successful to be happy, its handy but not essential, 

Any life advice?
Be true to yourself and try and be good at something.

Do you have any advice for struggling artists or musicians? Anything you wish you could have known before you started your career or anything you would have like to have known at a low point in your career or life?
All art is a struggle, it was never easy, you just have to keep at it, sadly not everyone realises their dreams, but its fun trying.

Dire Straits became a pretty successful band in its day, how did you feel about becoming famous?
I enjoyed the Dire Straits success very much but not because we were famous but because I loved playing and making the music.

What's your most unforgettable or significant memory as a musician?
Having the no1 album and no1 single in the USA. Live Aid was pretty important as was the Mandela Concert in 1989.

What do you think of music nowadays? Do you think its easier or more difficult to make it in the music business?
Music today is as important as it was in the past, wonderful that so many want to make and play music, if you play an instrument like the guitar you will never be bored.

Do you keep up with your former band mates?
Yes I see some of my old band mates, Mark [Knopfler] and I are still very close.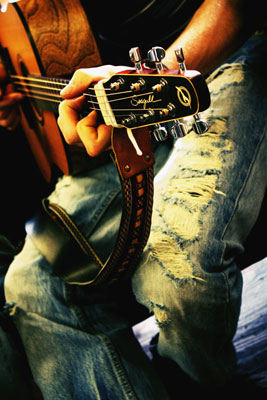 © Sam W., Bellevue, WA