Disillusionment
April 24, 2009
The days stretched as the vast plains then, reaching to the horizon and beyond.
Blue skies were yogurt-thick.
One whoosh would bare a dandelion & grant any child's wish.
In this world, swing sets dangle from trees,
bare toes clutch cool grass,
and the sun truly smiles- if only you could look at it long enough!

As a kid, I loved mysterious things. Like my grandfather's house; like my mother; like a ceiling of stars, and dim antique stores, and cemeteries. Explorations and fantasies abound anywhere room could be found for them. My heart was preceded in size only by imagination. Now, though, I see things for what they are. Now I'm not so happy. Because now, mysteries aren't mysteries, parents aren't heroes, time is limited, friendships aren't sacred, "magic" is associated with "trick", teachers give homework instead of hugs, and money means everything.

Does the child in me survive? Need I simply air out my filters, wash my eyes, and sniff a flower once in a while to make the magic happen again? Or does magic only exist during the first dozen years of our lives? If pollution is causing this gray light, I wouldn't mind hosting a clean-up. If reality is the gray light, let me punch out that bulb. But whoever said that "believing" is all it takes... well, they lied.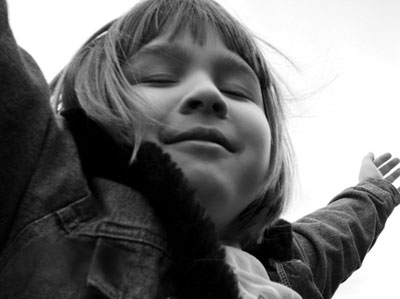 © Morgan C., Fridley, MN