My passion over time
May 4, 2021
The first time I took a paintbrush I felt amazed by that sensation of freedom and creativity. Today I can say that that feeling propelled me to discover all that creative world that had to be explored.
There was once when I was six years old, my parents bought a television for our TV room. This one was all covered with lots of cardboard, plastic, and Styrofoam, thus causing me an intensity of creating something. Therefore, I started by grabbing some pieces of toilet paper and glue in order to begin with the paste that would give structure to my sculpture. The idea was for the sculpture to be a robot or something related to the future and since I loved watching "Art Attack" in the mornings, I was much more inspired within my visionary process. I remembered that I started arranging plenty of masking tape and cardboard so that the shape could start to look like my main idea. Being so entertained and passionate about my project caused me to lose track of time. Hours passed over and over, and I was still in my bathroom creating something never seen before always with a smiling face.
Time passed and it was time to go to sleep. "Where is Dany?" my dad asked. He looked for me all over my room until he remembered that I was in the middle of a creative moment. He opened my bathroom door and found me asleep on the toilet seat all full of glue and papers. Nowadays, I remember that moment as the one which introduced me to the art world in general because I discovered that I could spend hours creating and painting without getting bored and always generating more and more ideas.
Nevertheless, my passion was never this big. In fact, recently, like three months ago, I wanted to study medicine or biomedical engineering because I wanted my life to be dedicated to something else besides just creating or painting. Biomedical engineering caught my eye since it is known for combining science subjects with math and design. I thought this would make my heart thump, but I didn't really see myself working and dedicating my whole life to the field of science. Furthermore, I imagine having an art studio with a mild smell of oil paint, full of floor-to-ceiling windows with a bunch of easels full of paintings that have been painted by me. By writing this I got even more excited about one day fulfilling my dream of becoming a recognized artist and being able to work hard enough, so I can have my own studio.
Teachers are people who can potentialize what we all have deep inside and let me tell you, I had fantastic ones. Every afternoon my professor came to my house and taught me different painting techniques such as watercolor and acrylic but definitely my favorite was watercolor. I remember hours could be passing successively as I enjoyed the fact that I was painting and having time just with the materials. The hours faded.
For a while, in Mexico City, I took comic classes but I didn't like it since the teacher used to make the drawings for us. Thus, I didn't learn anything. When I moved out of state my parents wanted my siblings and me to have after-school classes focused on art such as dancing, painting, or playing an instrument. This is when my teacher Letty appeared in my life. She taught me (my so far) favorite drawing technique: realism in pencil.
My grandmother definitely was an inspiration for me, thus I consider her my life teacher and my greatest motivation. When I was five years old, I loved going to their house, since my grandma used to have an art studio like the one I would like to have some time in the future. When I came into it, my face always had a broad smile and my body felt impressively free and creative. The smell of mild oil and acrylic paint, along with the paintbrushes perfectly organized, prompted me to design something new. The drawing board along with the easels called me to put a soft grainy canvas on top of them and just let me go. She used to paint for her and for special commissions it wasn't a formal job, that's what came to my heart the most; she did so because it was her passion and because her hours flew by. Now that she's not here with me anymore, I can proudly say that thanks to her love for art today every time I sat down to paint I remember her face when she took a paintbrush and just let herself go, as well as that passion and love that she instilled me.
Years passed and quite a few teachers came to teach me everything they know, and today I can say that it's the best thing that could have happened to me artistically speaking.
My futuristic sculpture, choosing a career, and the fantastic teachers I had are some experiences for which I am today choosing Graphic Design as the route to undertake in college. These factors also are the reason why biomedical engineering isn't for me. Yes, I'm good at math and science, but my true passion is art and painting and in the future, I see a Dany working in an art studio, painting, and just enjoying herself because the decision she made was the right one.
As one day somebody said, "Choose a career you love, and you will never have to work a day in your life again."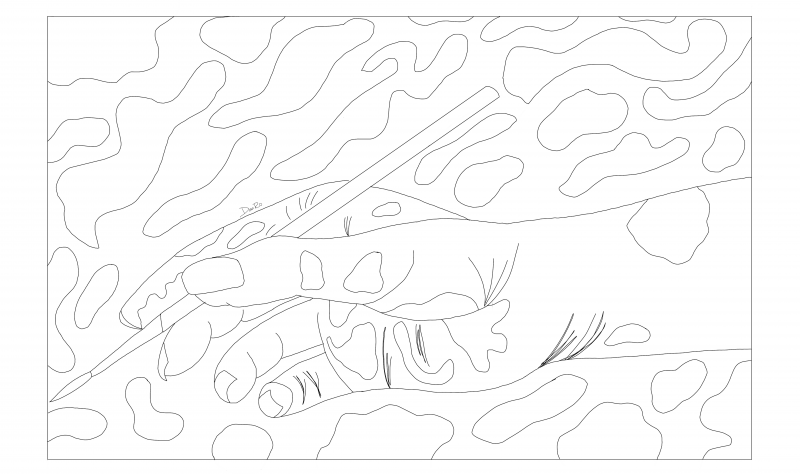 © Daniela R., Querétaro, Other