Excerpts From my English Paper
July 30, 2010
Monday, February 22, 2010

*=name change


Today, I finally returned to school. I approached the day ready for ridicule-I just got my hair done, and the last time I did, hell broke loose-but surprisingly, Eli* (Super-Divo/Frenemie) was even like "wow, your hair looks nice!" I replied with a grateful "thanks" and walked to my next class. Finally, Eli had nothing bad or sarcastic to say to me.

Because of my boredom at lunch, I started talking to Anthony-not that I wouldn't normally-and joking and stuff, and he had a couple of Warheads (the sour balls). "Do you want one?" He asked showing me a green apple flavored one. I took one and took a minute or two thinking "should I eat it or should I not eat it", all the while thinking of what would happen next on Orange Grove (my favorite Kingdom Hearts story on FanFiction.net). Everybody at my table was like, "EAT IT!! EAT IT!!" and I know that the whole peer pressure thing was in action, but for Pete's sake, it was a WARHEAD!The ball made me twist my face. Trust me, if anyone ever offers you one of those, punch them and say "Do you want to kill me FOOL?" I should've said that to Anthony now that I think about it. . .


Saturday, February 20, 2010

Hi. It's 12:41 AM, and I am still awake and on the computer looking for manga to read. THIS SUCKS EGGS It feels like every manga except for Naruto, Fruits Basket, and Kare Kano (maybe Ouran High School Host Club which I will start reading along with the mangas stated above) are about either A-vampires-ever since Twilight and The Vampire Diaries the world has gotten enough of that crap, B-have a ridiculous amount of sexual content-especially with boys, which according to many statistics, being a girl, I should love (WTF?? Why would a girl such as myself be interested in two guys-pretty boys- sucking face or worse…-shiver- shouldn't I want to be the one who's face is getting sucked?), or C-Witch Girls/Animal Girls that are weak and BUBBLY POP. Why does every Japanese book have to have women who cry all the time and need a man to survive, or be a total, what's the word. . . TART, in England? I am so SICK of having to search forever for manga to read in Japan that is age-appropriate. It is so annoying to have to look up manga categories on Wikipedia and see Yaoi and Yuri (gay and lesbian) as major categories instead of romantic comedy or girl's adventure. I became a writer because I loved the job and I also wanted to give some boy or girl a book to read and fall in love with when there wasn't any good book around. Why won't any writer have that ambition nowadays? What happened to having your goal be Making somebody's favorite book? Seriously, why must I fit into one of these ridiculous stereotypes for American girls? I don't like bubbly pop, and I DO NOT like all of that Sailor Moon, Moonphase vampire-witch crap with a capital C-R-A-P! Nothing ever fits my needs, not even the most popular stuff ever. The closest to reading/watching "magical" anime/manga was when I saw an episode of Fruits Basket, and that is funny and doesn't overdo it. Kare Kano (also His and Her Circumstances in America) has slight suggestion in the last episodes of its anime-I don't read the manga yet, and Naruto is . . . Naruto. The same as Kare Kano for Ouran High School Host Club which is like anime One Tree Hill without the drama. Why are there no good manga?!

Darn, it's 1:00 AM. I've got to read my Bible and go to sleep. . . Konnbawa-I mean Konnichiwa.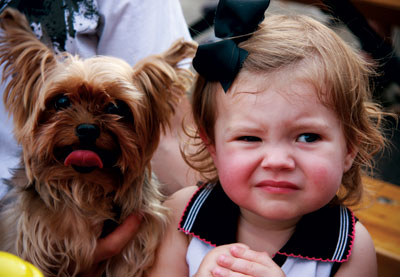 © Julianne D., Louisville, KY