Soccer in the Sand
October 13, 2010
Today was the day! I was so excited to be going to Seaside for my brother's soccer tournament. But the night before my dad said that he would not be going, because he felt that after Kohl getting in trouble he did not deserve to go. So then my mom said that I could stay home with dad and my little brother Kaleb. I was so bummed. But today she changed her mind and she is taking both Kaleb and I.
We got all our stuff packed into our Suburban and headed to Seaside. I think it took us about 2 hours to get there more or less. But we finally arrived and met up with everybody else on the soccer team. We said "goodnight" to everyone as we all headed back to our hotels. Their first game tomorrow was pretty early so all the boys had to rest up.


We woke up at 7:30/8:00 and saw how peaceful the beach looked. I got ready to go on out and see the game with my mom and friends. Kohl's was doing really well. They were ahead, but the referee sucked so she didn't time the game right at all. I hung out with Rowan and Juan cheering on our brothers.
"They are doing really well aren't they?" I said.
"Ha! Well at least my brother is." Juan replied back.
They were ahead and the other team was getting a little angry so one of the kids, who happened to be the coaches son picked up my brother, squeezed him and threw him to the ground! The boy got a red card and sent off the field for the rest of the day. We all thought it was really funny. I was quite surprised that my brother didn't respond back in anyway. They won the game and I was really happy for them .

After their game was over we went and watched my friend, Firdous play. His team had won their early morning game and were looking to beat this team too. Firdous and his team are really great, watching them play is always fun and exciting. They were up by three at half time and we were sure that they were going to win. Once the second half began the opposing team scored to goals out of nowhere. Then they got a penalty kick and the made it. It was now tied 3-3 I was so bummed but I still had hope! There were ten minutes left in the half and then Firdous scored and took back the lead. All of our families cheered. Then when the whistle was about to be blown any second Zack scored! They won the game!It was a close game but they pulled it off. Kohl had another game but I didn't go to it I went and watched my friend Nick play his game. Nick's team are called the Mondo's. They are sponsored by Taco Del Mar. They won their game 6-3 . Kohl ended up winning his game, 3-2. So everyone ended on a high note. That night Rowan, Iya, their family and us went out to dinner at Doogers! While we were waiting in line my dad, Kaleb, and Rowan took off. That's when Juan and his family showed up. Our table was going to be ready soon so I went to go looking for my dad and them.
" Hey mom! I'm going to look for dad around the boardwalk."
" OK! Hurry."
I headed off up the street when Juan showed up behind me.
" Hey I'm coming with you." He said.
" Um.. OK. Can you get a hold of Rowan and ask him where they are?"
" Ya!"
"Thanks."
So we walked in a moment of silence it felt pretty awkward, since Juan was really Rowan's friend and I had only met him once before. I just hoped we found them so I wouldn't have to indur this anymore.
" He said that they're by the crosswalk." Juan said.
" What crosswalk? There isn't any around here."
" Well lets go up here." So we headed up towards the main entrance to the beach. I didn't think that they'd be up here but I gave it a shot.
" Hey lets try by the hotels." I said.
" OK." They so weren't around here, and I didn't want to miss dinner.
" Are you sure that's what he said."
" Ya. But what's it matter? We're at the beach." He showed me the text and it said they were by the carousel
" Are you kidding me? Do you know how to read?!"
" Yes I do."
" It says Carousel not Crosswalk!!"
" Oh my bad."
So I headed towards the carousel which was across the street from the restaurant I got my dad and Rowan. And we went and had dinner. I couldn't not believe Juan was that stupid. Even though I started to believe that he did that on purpose.
The food was awesome. We were really happy at how the boys played and couldn't wait for the quarterfinals tomorrow.

Third day at the beach. Kohl had one game and they won it. Firdous and his team won their game to along with Nick's team. All three of our teams were so far undefeated. That night we decided to have a bonfire. All three of our teams and their families came and we hung out. We played started by playing World Cup, Hassan was on my team. We were two time champs. But then Firdous and Brentan took it from us. Of course though we won it back. Then we just started playing regular soccer. The parents had started s'mores but we didn't go. We play for 3 ½ hours straight. It was really fun. We had to leave since tomorrow was the finals and it was really late. The boys needed their sleep. So then we realized that Zack had lost his shoes and Brentan his bracelet. Zacks mom Debbie gave us a reading light to go and look for them , we found Brentan's bracelet but didn't find Zacks shoes.

So all three of our teams made it to the finals. They each had their last game to play and they were at the same time. So I went back and forth watching all theirs games. Nick and his team won! First place in their age group. Same with Firdous. Kohl played the very first team they played in the tournament but the lost. But Kohl's team still took second in their age group. We had a great time. And our teams all got to the finals and they had fun.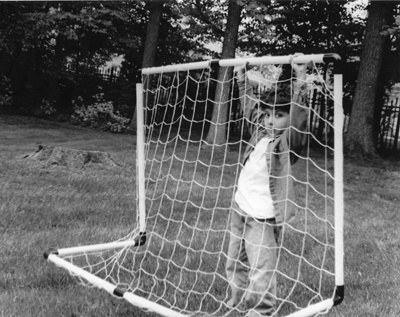 © Georgette S., McLean, VA