The Piano
December 12, 2010
There is a video, somewhere, taken with one of the big, clunky, home video cameras of the 1990's, that shows my mother sitting at our piano with me in her lap. I was about eleven months old. My dad films my mother, playing the lovely piece by Lorie Line called Threads of Love, and every so often the eleven-month-old me bangs out a melody on the lower octaves, a little tune only I understood. Everyone knows that little children love to bang on pianos and create sound of their own. Not everyone realizes that they become musicians starting right then.
When I was three years old, somehow the piano broke. I don't even remember what happened to it, nor what part of it broke. I only remember that the high school choir teacher and his wife, who were there the day I was born, came to look at it. I recall, from the depths of my consciousness, standing and watching as the piano was revived.
Buried among the thousands of piano books my accomplished mother and her aspiring daughters have accumulated over the years is an Usborne's Piano for Beginners Volume 1. My mother worked me through the book the winter I was seven. In those days, when I hated to watch football, I used to beg to be allowed to watch it instead of practicing with my mother on Monday nights.
I don't remember why we stopped. Maybe that was when my baby sister got pneumonia at the age of one-and-a-half and landed in the hospital. Maybe my mother gave up on me. Maybe we just started to forget.
But in the interim years between the winter I was seven and the summer I was ten, my mother still played. I recall teaching myself to play Good King Wenceslas. I guess I did learn a thing or two on my own. And my mother always played, especially at Christmastime.
The summer I was ten was when I started piano lessons. I had forgotten almost everything I ever knew. The first question my teacher asked me was if I could point out Middle C. I hit the C an octave higher instead. Needless to say, my teacher has taught me much.
The year that I was thirteen, my eighth grade choir director (not the same person as the one who looked at the piano ten years before) was taking us to Festival. We were a mismatched group of about eighteen kids, give or take a few, with a section of six guys that sounded like about three, a group of "Part 2s" who either complained miserably or couldn't learn the part because of the complainers, and a group of "Part 1s" full of girls who wouldn't shut up. Yes, including me. The director had quite a time with us. Anyway, he was taking us to Festival. Plenty of us were doing solos, including me. It was the first solo I had ever done, and I was as nervous as a bride, but my solo is not important. The important part is that I volunteered to accompany three or four of the other girls. You already know, reader, before I say it, that I had bitten off more than I could chew. I was only thirteen; I couldn't learn four difficult pieces in two weeks and learn my own solo and the quartet we had planned and find an accompanist for myself and keep my sanity. Eventually it resulted in having to call up the director's wife, who is a marvelous pianist and can play practically anything on site. She saved my butt and everyone's solo, and everyone in that choir who went is indebted to her. I was rather embarrassed. When I think of it (which I hadn't done until I began this paragraph), I refer to it as "the accompaniment fiasco."
The year that I was fourteen, my attention was rather occupied. I didn't play half often enough. It doesn't make any sense to me how I made any progress at all. I didn't realize, either, that playing often put me in a better mood. The year I was fourteen, I rarely played, and consequently I was as mad as a hornet and crankier than a bear all winter.
The spring before I turned fifteen I bought a book of Irish ballads at a music store in the city. It became my favorite book. I played it all summer long – I played it the night of my birthday while my boyfriend sat by the piano – I played it at my grandmother's house for weeks upon end – I hummed the tunes while I was at camp in Minnesota – I played it when I returned to my grandmother's for my flight home – I played it when I came back to school and life stopped openly explaining itself. I play it when I get up, I play it before I go to bed. It is my mainstay. I play it all the time. I turn to the piano. Despite its one working pedal and the B key that doesn't always work (we call it the may-b), the piano is my best friend.
When I'm eighty years old I'll think about these days and see myself, sitting at the old piano that by then will have become the dirt floor of a junkyard, just playing. Maybe I'll still remember the tunes and hum them in the long nights when I'm all alone. Or perhaps I'll forget everything except the piano, the plain, shabby, imperfect little electronic piano, that in my memory's eye will have been so glorified that no shiny new grand piano can hold a candle to it.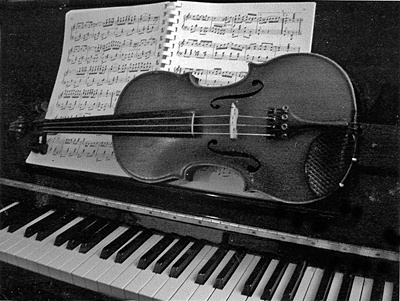 © Edwyn A., Chula Vista, CA