She Can See the Hurt in His Eyes
March 22, 2011
He struggles through the days. He fears of someone seeing the hurt in his eyes. So he hides behind a mask. A mask that he thinks no body can see through. But what he don't know is mine to keep.
He doesn't know that I can see through that mask of his. I wounder what he would do if he knew I knew? Do you think he would deny it? To me I believe he would deny it. He would never think of me as someone he could talk to about what he feels.
Yet, I watch him mope around, watch him struggle and hurt so badly it rubs off on me. I heard someone ask him "are you ok, what's wrong?" All he said is "I'm alright, nothings wrong with me, but thanks for asking." I thought about walking up to him to talk to him that away he would know I knew, that I can see it through that mask. But something in my mind told me not to just yet, that I needed to wait.
Now it drives me crazy. I have to fight myself to not just pull him to the side and let him know. So I tell my mind, "I can't do this anymore, I'm going to tell him!" So later that day I run into him, and I asked "can we talk?" He said "shure i have the time."
He didn't know why I wanted to talk to him, he didn't know what I was fixing to let him know. When we got to a place less crowded I told him "hey, I know how you feel." I can see the pain in your eyes, but no body else can see. I can see through that mask you put on, and I want to help. "So what do you say my friend?"
He just stared at me for a long time. Then I saw that mask start to break, crumble, fade. What I saw then almost startled me for now he started to cry. He tells me "please help me I can't live in this dark void I've been in no more." A happy tear rolled down my face, then I hug him and say "I would be honored to help you, because you have no clue how long I have awaited for you to say that."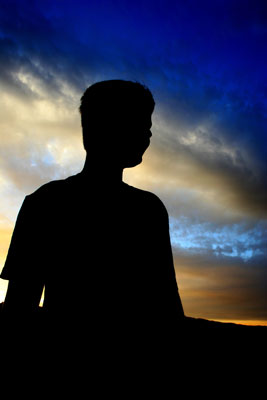 © Monica L., St. George, UT