-Pain-
August 27, 2011
Pain. Blinding, searing pain. It courses through my knee. I can't walk on it. I can't move it. I can't even touch it. Pain races down one nerve and up another. I grit my teeth and take another step. Pain. Pain is always there. It never leaves or relents. Crutches were helpful for a week or two, but after a swollen foot, several trips to the ER, and more than a dozen doctors, she took them from me. Why would she take them from me? I can't walk. I limp down the sterile hallway, tears streaming down my face. Apparently the pain will help. My condition is pain. My cure is pain. That makes sense.


So no crutches. Instead, I get only PT. Technically it stands for Physical Therapy, but the true name is Pain and Torture. If a single step is painful, I must run a mile. If a single touch, is excruciating, it must be rubbed for nearly an hour. If I can't do it, I must do it. If it hurts, it must be done more. Minutes on end. Hours on end. Days, weeks, months on end. Pain. Constant horrible pain.


Maybe you deserve a little explanation here. I have a condition known, among other things, as Reflex Neurovascular Dystrophy. It is a condition mostly affecting teenage girls, in which the main symptom is pain. There is no injury involved; the nerves are simply convinced that everything hurts. The only way to stop this is to expose the painful area to normal sensations in the theory that the nerves will learn to not be in pain.


It didn't work. Months. I spent months in that awful little room full of torture devices. Well over a year has passed. The pain remains. Slightly less so, but still it remains. I can deal with it. I have to deal with it. I have no other choice. I can walk in this classroom, looking and acting the same as any other student. But I am in pain.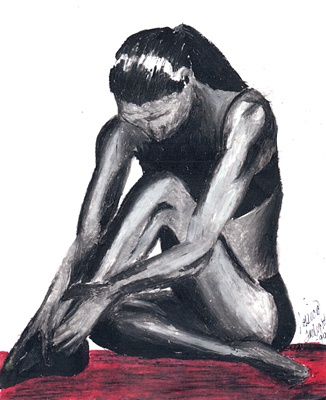 © Jessie Y., Ahwahnee, CA