Under the Skin
February 2, 2012
The echo of a bird, a rustle of leaves. The gentle scratch of a pencil, perhaps the mellow clicking of a keyboard. No roaring motors, no talking; only nature and magic at work. Inside a cabin burrowed in the woods the typing or scratching goes on. Travel inside of the story; see the sorcery weaving together, creating life. It's much like before, but-the crunch of a branch under feet, crackling dead leaves as autumn fades into winter. The squeak of rusty hinges and a loud slam. The scream of a girl. The break of a neck… This is my future. This is my house in the woods, my peace and quiet I need inside my sanctuary. This is my writing; the opposite of everything. It is what I am and hope to be. This is who I am, a spirit of imagination; of morbid thoughts; of creativity. This… is me.

My imagination is an expansion of myself. It is a world inside me full of odd and terrible creatures (the Blackness, Constance Malt, the Hitchhiker, the Festivalentine employees) along with objects that I do not have names for. It is occupied by heroes and unlucky characters (Timers, Allison, Parker Seams, Abigail Ternsleigh) that face their worse foes (Zerena, Desdemona, etc.). My mind is nothing but imagination! I love to write down my thoughts in stories, although I can never finish them! I put a lot of thought into my writing. I look up meanings of names, certain dates, and other things even if they aren't vitally important. I also get ideas from simple things. I could see an oddly shaped rock or a certain type of building and a story will start forming in my head. A great example is Alice in Wonderland. No matter what, I can never limit myself to one idea of how to recreate Alice in Wonderland in a more modern day setting. I've gotten at least five different rewrites of it, although one is stretched out into a series, and the girl's name is Alison. But my real pleasure is dark, harrowing novellas.

My imagination is morbid. My mind can run wild with horrible settings and grimy gore. Here is an excerpt of a story called Dinner with the Orricks I wrote.

"Nausea overtook me. The scene before me was overpowering my stomach. I fought my gut, pleading it to keep my lunch inside of it. Yet I couldn't turn away from what was causing my upset stomach. Upon the dining room table where the Orrick family sat, staining the dark wood, was a burnt cadaver of what appeared to be a woman. She seemed to have been skinned and caught on fire, her meat still raw and bloody. She had a very few small tufts of singed hair in various locations across her head. Mr. Orrick took out a large, slender knife and started to carve a hunk of muscle from the carcass's arm. The body suddenly opened its mouth and let out an antagonizing scream. It wasn't a dead body, but a living person being fed to the family. I stared in horror at the sick, twisted cannibals until realizing that I was the next course in this macabre dinner."

I told you I am morbid! I also have had very bad thoughts, though. Once, when I was in a hospital, my little sister ran into the elevator as soon as the door opened, and I suddenly had a thought. What if a little girl with her family ran forward without looking, and the elevator had not come up, and she fell down the elevator shaft? It chilled me, but it also made me smile. I'm just sort of demented like that. My ability to do such things ties into my creativity.

I have great creativity that ties into my writing. I make wondrous things such as Tale-Twisters (a creature from my short story, But Happy Endings Aren't Exciting), which can change the world around you into sinister scenes and torture you until you don't know what's real and what's not. I can conjure up complex designs that could work as deadly traps, not to mention create interesting characters that fit their stories with a snugness that is like a slim sweater. My evil characters can be very creative also. In the Black War: Book One, there is a villain named Desdemona, meaning "of the Devil". As for the hero in the same book, her name means hope and dignity. I hope to dish out a few more unique story characters soon!

Hear the rustle of leaves, a distant caw, and nothing more. Deep in my house, I sit stringing together my imagination and my creativity, adding my morbid thoughts into the stew, and create another masterpiece as thoughts of dark and light shroud my mind. Maybe you can be in my story next time-but beware, I am bound to find a fowl fate for you.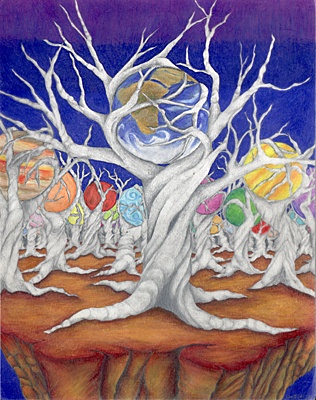 © Sara P., Lake Mary, FL