Home Video
October 19, 2012
I found an old home video.

I've never seen it before. It's really blurry... it was recorded 15 years ago, on my first birthday. The camera is on me. I am sitting in a miniature ship that is rocking back and forth as gold coins are deposited. The muffled sounds of the arcade in the background fade in and out. The video is really old… it's made up of splashes of pixel colours that are difficult to distinguish from one another. The camera expands and I see my father kneeling next to me. He says something. The camera distorts- now there is a flash of white teeth… he is smiling. A disembodied voice says something- my mother. She is holding the video camera. My father looks towards the camera. A random person passes in front of my mother, blocking the view for a few seconds, and the camera shakes a little as Mom repositions herself. She laughs about something.

I am still rocking. Apparently I find a huge amount of enjoyment in this. My baby hair is drawn up in bobbing pigtails. I'm wearing a purple sweater and a white bib my grandma made. My father is looking at me, probably wondering how I could possibly not be completely bored with this repetitive motion. Is that what my parents are laughing about? Funny how their voices are just as muted to me as I watch this old video as they must have been to the one-year old version of me. The video-me is distracted- I look over the edge of the ship at the floor. It seems as if I may fall out, but I right myself again.

Suddenly the ship stops rocking, and my dad stands up as if on a mechanical spring. He leans over me, grinning, and I can just make out… "…again?" I think he's asking me whether I want to do it again. The version of me watching the video laughs… "As if I can actually answer you, Daddy," I think to myself.

He loads another gold coin into the ship and it starts rocking again. How is my mom not tired of video taping me go back and forth, and how is my dad not weary of sitting there watching me? I laugh again, feeling warm from their love for me. I continue watching the video. Daddy has gotten up and moved out of the view of the camera. I'm looking over at the floor again. Suddenly my head whips around to where my Dad used to be. Where is he? Oh… he must be behind Mom, who's holding the video camera. I look straight at the camera, laugh, and wave frantically. Then I become preoccupied with the coin slot. The boat stops, and a pair of large hands lift me out.

The video ends.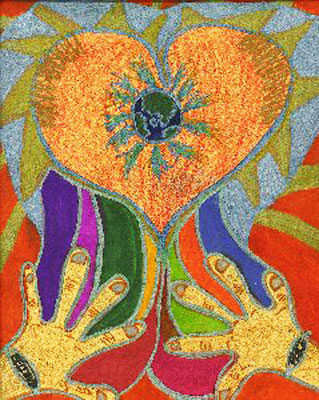 © Amanda P., Clermont, FL