My Last Visit
MAG
January 5, 2013
It was hot those summers, hotter than it had ever been. And the smell was sweet with despair. An oily film coated everything, leaving you with the constant sensation of being dirty.

We shuffled onto the bus. There were bars on the windows and obscenities scratched into the thick white paint that covered everything. Light flickered sporadically and I held my breath, fighting waves of nausea. I was a little girl, but even then I could comprehend the magnitude of this moment, the cruelty, anger, and grief on that big white bus.

Later we stumbled out of that dark, stuffy vehicle and into the blinding Arizona sunshine. I was surrounded in eerie silence. Around me, in a clump, stood so many women and children, anxious to be reunited with their husbands, brothers, and fathers.

We waited in the dust and heat for the first of many gates to open, and then we were herded in. Everywhere I looked there was concrete and barbed wire, a dry wasteland and the body of a fallen bird. I held tightly to my mother's hand, praying I would not faint in the heat.

We walked a long distance before being packed into that small visiting center. In a single-file line we passed through the waiting room, past the guards who treated us like cattle. They acted as if loving someone who had done wrong made us tainted and unworthy of dignity and respect. The clips on my overalls made the metal detector go off. Finally, we turned down a long corridor. Phone after phone, and behind each Plexiglas window a man looked out, hoping his loved ones had come. I felt a rush of nerves, bumblebees tumbled and buzzed in my stomach.

I wondered if he would look different this time, but he didn't. Sometimes my mom and I would laugh or tell stories, sometimes we would just sit quietly, too consumed by the ugliness around us to muster a word. I was eight, and I had lost a father for the second time. This man, who had promised never to leave me and my mom, had been torn away.

Then I saw him. He looked so tiny behind that window, so weak and powerless. I watched my mom talk to him, holding her hand up against the scratched plastic. I never felt so low.

I looked around, and on each woman's face was that same look. I wanted to tell them to run, to never return to this toxic place, to teach their children what it was really like to be loved.

I never returned to that place. I had nothing left to say to the man behind the fence and the plexiglass. I learned then that I could no longer rely on him to make miracles happen. I would have to make them for myself.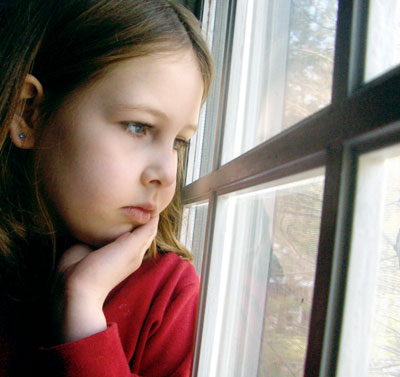 © Dana D., Gansevoort, NY