The Box Revisited
March 31, 2013
With all due respect to Mr. Fisher Price, I prefer simple toys. I never went for any of the noisy, flashing, high – tech toys that the other kids liked, because they already had a story made up for them. And that was my favorite part of playing – making up the stories. My Barbie's never just went to the beach to swim, they went there to hang out with the Lego people and ride plastic dinosaurs up my basement stairs which were – oh no! – covered with molten lava. At recess I would make up elaborate games with my friends and daydream about swinging so high I flew into the clouds. And even though I took ballet classes and gymnastics classes and all the other classes that require a leotard, I went home and pranced around my living room to the same Disney cassette tape over and over again. In my world, my imagination was the hands of a sculptor and The Box was a fresh lump of clay
The Box was conceived of desperation and magenta paint. I was home sick one day, and my mother was lost in a sea of tissues and juice boxes. In a frantic attempt to distract me, she dug an empty TV box out of our attic. We decorated the box with smears of paint, scribbles of crayons, and colonies of princess stickers. The cardboard still showed through, and the strange words printed on it, (what the heck was a Sony?) but I was enthralled nonetheless. It was love at first sight: this dusty piece of cardboard was the most simplistic and inexpensive toy I would ever own, and yet my favorite. This humble construction held the infinite possibilities that an Easy Bake Oven could never hope to offer. I soon discovered that I fit inside easily, and subsequently refused to come out.
If my mother had originally thought this to be simply a time consuming art project, she was sorely mistaken, and I was quick to correct her. From that day on, The Box was my favorite toy, and fit into any fantasy I fabricated. It could be a swimming pool or a hotel or a prison or a castle for my toys. It could be a spaceship or a charming cottage or a boat or a really large hat for me. Sometimes, if my little brother was being civilized, I would let him come with me in my time machine, to travel back a thousand years ago and make friends with cavemen. On my mother's birthday, I mailed myself to her in the box and popped out singing. I convinced my babysitters to go inside, and when they did, I spontaneously transformed into an evil witch and locked them in jail. In this box, I gave my dolls baths and I hid from my parents and told my friends secrets.
Eventually, all the love wore it out. The Box had been taped, torn, tossed and tumbled, and all the wear and tear started to show in its appearance. The cardboard softened, the corners rounded out, and the stickers started to peel. The Box was dying. My parents knew this, and they tried many times to coax me to give it up, but to no avail. Though it was decrepit and dilapidated, I still loved it more than any other toy. I could not see any problem with my favorite playmate, and I clung to it like the duct tape that was holding the scraps of The Box precariously together. However, there are some problems, (albeit few), that duct tape cannot fix, and the kidnapping of The Box was the worst of all.
I was skipping down the basement stairs, thinking about all the places I would conquer in my pirate ship today, when I noticed something was wrong. The Box was gone. I searched everywhere, but it seemed that it had disappeared. It took me a while to realize that someone had taken it, and that someone was my mother. It was inconceivable to me that the same woman who had created The Box would also get rid of it, but it was true. I was never sure why she took it away from me; whether it was deemed too unsightly to keep, whether she thought I had outgrown it, or whether it was just too broken for her to stand to look at. Whatever motive her, The Box was gone.
I remember the colors of paint, the stickers that fell off like flower petals, and the strange writing on the outside. I remember the games I used to play with it, the people I stuffed into it, and the way I looked forward seeing The Box every day after school. But mostly, I remember how it felt to sit in The Box. There was the comforting scent of cardboard, and it squeaked slightly when I sat on it. It was very dark and quiet, almost serene, even when there were noisy children in the room. I felt very safe inside The Box. Sometimes I would bring my friends inside The Box, and we would whisper about terribly important things together with a flashlight held between us like the secrets we shared. Sometimes I would turn off the lights and listen to the noises of the house, which were never scary when I was inside The Box, because it had a monster shield that kept me safe. Sometimes I would sit there and think about what it would be like to be a grownup.
When I lost my box, I lost this sense of safety as well. I became afraid of my basement without The Box there to protect and comfort me. I couldn't sit in silence and think about what it was like to be a big kid, I had to experience it. When The Box left me, everything became real instead of imaginary. My ideas are contained by rational rules like my body was contained in The Box. Eventually, I know, I would have grown too big to fit in The Box or decided it was too uncool to be in my basement, but I would have liked to give it up on my own terms, and take my imagination with me. Now that I am older, society tells me that I am too old to play in a cardboard box, so I can only wait until I have children of my own, then we can create our world together.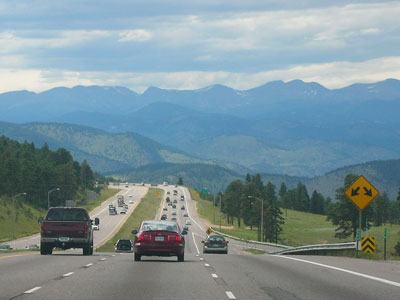 © Adeline N., Ridgefield, CT