Brush Strokes
MAG
November 13, 2014
Today, a friend of mine will have her first child. Today, I visit my grandfather as he slips into oblivion. An entrance and an exit. A beginning and an end.
The two cannot look more different.
In a matter of hours, a screaming, wrinkled baby will be pushed from his mother's womb and introduced to the world. His skin, flawless. His mind, blank.
My Papa, with his withered hands and tufts of white hair, sits on the edge of life, a huge valley of memories before him. His skin, scarred. His mind, full.
It's amazing, the progression of life. The journey from birth to death, from beginning to end, is the brush strokes in a painting. Birth is the canvas, death, the frame.
As I sit by Papa's bedside with one of his skeletal hands enclosed between both of mine, I can feel tears welling in my eyes, burning against the rims. His life, a painting, is almost complete. It's about to be framed and put on a wall. I think about my friend who is building a canvas workspace. A place to create a new masterpiece.
Then I remember that with a blank canvas, there comes an artist, and I realize that this little one, every little one, will soon be dressed with an equal number of scars, an equal number of flaws, whether voluntary or accidental.
Papa's right elbow acquired a scar in 1945, before my existence was ever considered, before I was ever dreamt of. I remember being small and tracing the puckered white line marring the tanned, aged skin, and I was happy because he told me that scars fade.
But now, as I watch him with his drooping eyes and sagging skin, I notice all the imperfections. The scar, yellowed and stretched into something noticeable, is a festering memory suddenly made manifest after years and years of remission.
But it's not only the scars. It's everything.
The veins on the backs of his hands line a road map of his life, pumping the little bit of life left in him through his body, providing him with sweet, savored breaths. A tear breaks over the barrier, slips down my cheek, and drips from my chin.
I watch his yellowed eyes, sitting deep in their sockets beneath drooping lids and underlined with dark purple bruises, and I think that one day, everyone will experience the same decay. That freshness, the innocence present at birth, will fade away.
Part of it makes my heart ache, but part of it brings me to the realization that every mark, every bruise, every scar is a memory, is proof of life. And I'm thankful for the pain and the heartache and the bumps and the bruises because they're reminders that there was life, that there is life. By the time the painting is complete, it's going to be something to look at, something great, something worthy of framing.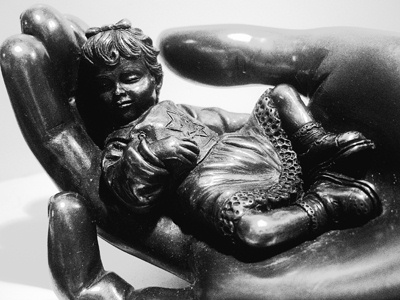 © Dat L., Worcester, MA