The Shade
May 4, 2015
It was a hot day, and the afternoon sun burned like it could boil a glass of water. I sat under a mahogany tree; its shade casted a monstrous shadow, but I felt comfortable under its dungeon.

Among the trees in the playground, this tree was the biggest. Its trunk was enormous, and the branches sprang tirelessly even if the leaves seemed too much to bear. This was my favorite, so I carved my name on the trunk with a nail. This would signify intruders that this tree was mine.

The breeze slid across my ears as the leaves rustled eastwardly. I took my Harry Potter book and began reading it. An hour later, I felt my eyelids went heavy. Then, I was drifted off to a deep slumber.

When I opened my eyes, the sun was already enjoying its last grip on the horizon. I started packing my things up and bid goodbye to my tree.

A week later, I went back to my favorite tree. But as I arrived at the playground, a sight of a new pair of swings welcomed me. My natural tendency must run towards the swings and play; however my feet seemed rooted on the ground. I looked around expecting to see the tree, yet it was missing. I glanced again at the swings. In the corners of my eyes, tears started to form.

It was a hot day, and the shade was no more.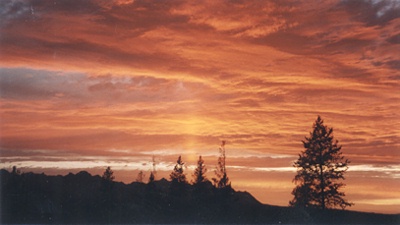 © Katy B., Challis, ID