"Just Forget It"
July 8, 2015
It was a typical day at school, and I was rushing down to the cafeteria to meet my friends. On the way down, I felt a strange sense of deja vu; as if something significant was about to occur at that very spot my feet touched the end of the staircase. Right when I opened the door to the second floor, I saw him. The being I wanted to forget about for so long. The person who crushed me with his iron fist and metal heart. Pain immediately rushed to my chest where my heart pounded wildly.
He looked at me, those brown eyes tearing up; as if he actually regretted what he had done to me. He looked as if he was going to say something. Right at that moment, I really did not want to hear what he had to say to me; whether it was good or bad. I just wanted to get away.
"Just forget it," I mumbled as I pushed past him as I tried to catch my breath. His eyes followed me, as if to say,"Just forget what?"
"Just forget about me." I mumbled louder, as I shot him a teary-eyed glare.
He stood there, without moving, but left after a few seconds. When I left him standing there, I knew it was impossible for both of us to forget. Our memories lingered. After all, regrets are never easy to be forgotten.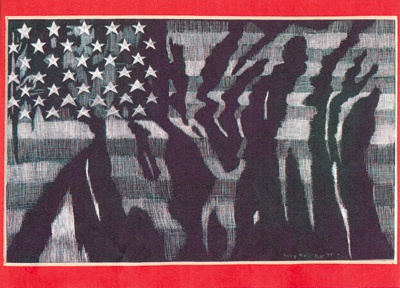 © Haley M., Ellinwood, KS