This I Believe: Freedom of the Third Grade Press
October 30, 2015
Skeletal fragments buried under ash-ridden piles. Ripe bodies that are sick with decay. Broken pieces of rock lurking about, waiting to trip an innocent child. All perfect symbols of the freedom I was looking for, right? In the wrong context, but the simple answer is yes. I believe in freedom and the smell of trees in cemeteries. When you put me under one of those trees, pen in hand, and a piece of paper to scribble on… Well, I'll probably try to marry you- after I'm done writing, of course. Don't tell Rose.

We were best friends, Rose and I. I was more of her punching bag than her friend, but we shared secrets (that she told) and bright pink bubblegum (when I had enough to spare- or didn't.) I admired her. Gorgeous blonde hair, striking pale skin. I had it in my head that if I spent enough time around her, I'd be captivating too.

We were at recess when the graveyard struck my fancy. Going to a Catholic School, our playground was centered right next to a cemetery, which gave me the opportunities I needed. I 'accidentally' kicked a ball over the fence, and happily agreed to fetch it.

The grave markers were old. Probably older than Christ, I thought. The once brilliantly carved faces were withered and white, no longer legible among the ragged grey-green grass. I let my hand graze one of them, energize my red and stubby fingers. That was when I realized that I liked it there, in the graveyard.

I scooped up the ball and bumbled away, tripping every now and then on the haphazardly placed cement. Trees tunneled around me, a protective shield. Their strange scent, something like perfume and tea, followed me as I left through the gates.

Rose didn't say anything upon my return, but offered a disapproving smirk. I picked a bright yellow dandelion and tossed it to her, hoping to appease the cruelty in her eyes. She accepted it reluctantly, finally deciding to tuck the bloom behind her ear. It looked rather drab compared to the radiance of her face, and I began to regret my peace offering.

I almost forgot about the rule, and she knew it. "No touching the graves."

But I felt it. I felt the guilt well up inside me, more for the thought of punishment than the deed itself.

We went back into the warmth of the school building sullenly, quietly. I turned to face the cemetery one last time before swinging the door closed behind me, and felt an imaginative flutter kiss my eyes as I pondered over whose memorial I had touched. I pretended to have seen a woman, a sweet lady with a pompadour and blouse. It was fun to imagine these things, I decided. I trotted down the halls, trying to keep up with Rose. I added a man to the ghostly apparition, and then a few children. A family of ghostly neighbours danced through the walls. I allowed a giggle to escape me.

"What are you laughing for?" Rose asked, passing through the classroom door.

"I just thought of some people. They're really funny," I replied.

Rose seemed to believe I was talking about real people, and I hastily corrected her.

"Pretend people? Ghosts? That's so dumb!" She scoffed, daintily taking her seat. "It's- It makes you an awful Christian to believe in ghosts, you know."

"Does not!" I exclaimed. "Plus, they're fake, duh."

"Whatever. Just go sit down away from me! You're so… weird!"

My best friend tossed her hair pompously, and turned to face another of her fairweather pals. I slumped back to my desk defeatedly, shoulders turned in, feet tucked close. I found myself with a dry feeling in the back of my mouth and the space between my eyes and nose stung. I could feel the tears trying to form but I wouldn't let them fall. Not this time, and never because of Rose.

I wrote a story about the people in the graveyard, and later revisited it to find out what my characters should be named. I ended up choosing Elizabeth Johnston for the woman, Mark Johnston for the man, and Seth and Jonah Johnston for the children. Sharing the story made me feel better, and after my teacher gave me her hearty encouragement, I delighted in taking it to Rose.

"I wrote a story." I passed over the papers. She hastily read through them, sloppy grammar and all. I bit my lip, dug my toe into the ground. Waiting.

"This. Is. Awful." Rose tossed it to the floor. Her curls shook as she stepped away.

I wasn't sad as I expected myself to be. I was angry. Angry that she wouldn't take it, and angry because I was sick of being her friend. My arms shook slightly, my cheeks bloomed.

"Oh yeah?" I yelled from across the room. "Well, we're not friends anymore!"

As Brendon Urie from Panic! at the Disco put so eloquently, "There are no raindrops on roses…". Sorry, Rose, but I shed no tears after our parting. I learned that I believe in freedom in unlikely places. I focused on doing the things that brought me joy. And you know what? I like cemeteries and their trees better than I liked Rose's face anyway.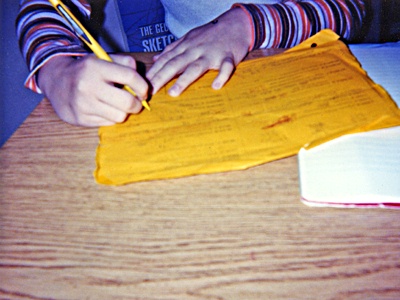 © April R., Highland Village, TX