Things You Don't Know You Want
MAG
December 18, 2015
The first time I see him he's sitting on the old sofa, bent over his knees, pushing up his glasses, laughing. Figuring that attractive boys don't do nerdy, artsy things like this, I conclude that he must be either insane or insufferable. Wow, I think, look at that stupid hair. Look at those pretentious glasses. Maybe I feel this way because I know there are plenty of "cooler" girls here he'd like better, or I don't want to get my hopes up over someone who could end up being awful. Regardless, I'm determined to find him revolting. That smile? Ugh. Too wide. Too many teeth.
At orientation he is overly polite, overly friendly. He calls the teachers "sir" or "ma'am," and he speaks with his roommate as if they've known each other for years. Every time someone makes a joke, he points it out and says with this incredible enthusiasm, "That's solid!" at which, of course, I never fail to roll my eyes.
That night, my friend and I go up to the twelfth floor, which is essentially just three glass walls, a broken flat-screen TV, a pool table, and a multitude of '80s-era furniture. It's a place that the year before we'd spent almost all our time. At first it's empty except for two girls we already know – they were here last year too – and that's how we like it. As time goes on, more and more people start filtering in. Of course, he is one of them.
He's with the other boys, playing pool. Every few minutes they erupt into a chorus of "bro!" because – as I find out later – Luke made a terrible shot and hit Dan in the crotch.
After a while, everyone sits down and starts to talk. He talks, mostly. Asking about how people are doing, how they're feeling. Where they're from. How they're settling in. What an ass.
We all decide to play "Never Have I Ever," and it quickly dissolves into a game of "What's Your Best Story?" When I talk about my time in the hospital, he is quiet for the first time that night. He listens like few people ever have, and despite the group around us, we speak only to each other.
He tells me that he'd always thought he'd be dead by the time he was 16, about his twin brother, about how he thinks the universe works. I tell him how my favorite color is the blue-black of the night sky, how happiness is hard to find, and how when I drive I never want to stop. And suddenly, he is the prettiest thing I've ever seen. He is so smart, so sweet.
"I only want to be kind. That's all I want to do," he says, and I want to cry.
Eventually the group breaks into smaller ones, and I sit with him until almost 1, talking and smiling and drawing.
"This is it," he says. "You and me." He laughs. "I feel high."
"Me too." Of course, I've never been high, but I figure this must be a pretty accurate emulation of the feeling. It is a bittersweet floating, an almost terrifying happiness, knowing you are going to love somebody. Knowing you are falling in love.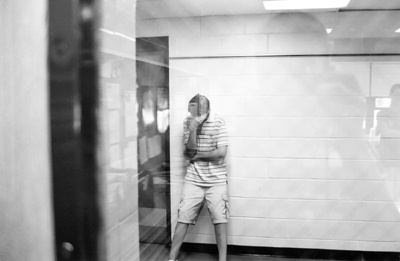 © Kyle W., Pompton Plains, NJ