The Gift of Music
February 23, 2017
I'd been bugging my dad for months to teach me to play guitar. Over and over again, I would say, "Dad, when can you teach me to play guitar?"

Over and over again, he would say, "Soon." Or, "Later." Except the fact was that "Soon" and "Later" never came even after all of this time, and I was getting a little restless, like a child waiting for Christmas to come. Finally, I just asked my dad whether he would ever teach me or if it just wasn't going to happen.

He explained, "I would have done it earlier, but we're just too busy. There's just too much going on." I just sighed and walked out of the living room and up to my room to think. As I lay on my bed listening to music, I thought about what I could do. My dad had previously suggested I should take lessons from one of his friends from church. He was a phenomenal guitar player, no joke, but I just couldn't afford to pay for it every week. At this point the only activities I did were wake up, go to volleyball, come home and eat, then back to volleyball, sleep and repeat every day. In other words, I had no source of income because I simply had no time. Then I had the best idea! I thought, Why don't I just use my dad's old guitar and just try to do something with it? I rushed downstairs as though I feared for my life and found my dad's old guitar. I had opened it with such care, like the simplest touch could snap it in half. Since I was little, I learned not to touch it. My parents had always said, "Don't touch the guitar. It costs more than all of the clothes in your closet combined!"

I knew never to touch it, and even then touching it with such delicacy sent a shiver down my spine. I strummed the guitar, very out of tune and smiled to myself, This could be the start of something great.

For the next few days I would come downstairs and try to do something, anything, but I just didn't know where to begin. A few weeks later, my dad came into my room, holding the guitar and a sheet of paper, and proceeded to tell me the parts of the guitar and how to play. My dad taught me to put my fingers on the fret boards and how to correctly read tabs. Then he showed me the paper, which had the chords I needed to learn to play. After that, he told me to learn how to play for myself, and then he left. I was so happy and couldn't wait to start learning. Then and only then did I really realize the gift of music.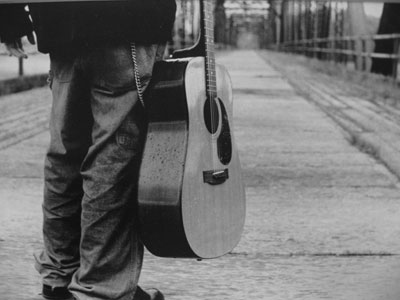 © Bailey M., Eagan, MN