The Quiet Drve After The Loud Night
October 21, 2009
The last time I heard "Sorry you're Not a Winner" by Enter Shikari, I was over at The Venue of Scottsdale and we were shaking like matches in a box, heating up the room which we kept ourselves in. The room was long and narrow. It had two stories and was built to look eighteenth century, Midwestern style. To the left of Paola and I there was a bar that looked like a saloon out of a western. There were a few people by the bar holding their brown, plastic, beer bottles, nodding their heads to the beat of the British happy-hardcore sound. However most of the people were surrounding us. It seemed the whole crowed pushed forward and side-to-side all at once. Everyone was sweating, breathing heavily, singing along, and moving about frantically to the beat. The lights were flashing to the music as well, as if dancing in their warm, musty air.

I was scarred for Paola. She had never been as far into the crowd as we were and people were moving their limbs and bodies in a way that she could get hurt. I made sure no one got too close to her and I kept my arm around her waist tightly, never letting up, only holding on tighter.

After the song was over Paola faced me and yelled, "Wow!" She had the biggest smile on her face. She looked red and exhausted, but I could tell she was happy and satisfied with the time we were having.

We headed straight for the water jug at the end of the bar. It was a water jug you would find on a football field. She grabbed herself and me a con shaped paper cup as we waited in line for the un-iced tap water. There were about three people in front of us, but people were loitering around the water jug and kept refilling their cups every few minutes. We finally got our mediocre water and walked away from the bar.

We walked towards the Enter Shikari merchandise booth. We wanted to meet with the band. They had said earlier in their show that they would be back by their booth later in the night. On our way to the booth we run into a couple friends of mine. I saw Rachel first. She greeted me with a, "Hey Matt!" In her high pitched voice, waving to me. I introduced her to Paola and they shook hands. I didn't even notice Shireen standing right next to Rachel talking to a mystery friend of theirs I had never met. Shireen introduced herself, "Hello! I'm Shireen! I lived next to Matt for like four years," Even though I was her neighbor for a little more like two years. After we said hello and chatted for a while in the lesser populated area of the venue we walked to the side and sat on this curb. The floor was a red brick road. We sat their holding each other for a while until the next band went out on stage.

We got up and stood near Rachel and Shireen. They didn't move at all. We faced the stage and watched the band; their name was Bless the fall. We stood there the whole time. I was holding her waist from behind, resting my head on her own. I only let go of her to take pictures and record bits of the show. Neither the pictures nor the video recordings came out too well.

After Bless the fall were finished with their set, Paola and I decided to sit back down on the curb. There were a few people sitting around us and standing, leaning on polls that held the venue up. Then out of nowhere my friend Alicia ran up to us screaming so loud saying how awesome the show was. She was covered in sweat and filled with adrenalin. Then she introduced herself to Paola and shook her hand. Then she got up and met up with her friends.

We sat on the curb for a while longer enjoying each other and listening to the noise around us. Alicia appeared again. She let us know that the guys from Enter Shikari where at their merchandise booth. We got up and rushed over there. A line formed as we arrived. We waited, anticipating our turn to shake the hands of the singer, Rou. Alicia, Rachel, Shireen, and all of their friends were ahead of us. One of Alicia's friends got her shoe signed by the British vocalist. That gave Paola the idea to do the same thing. Once we got to him we asked if we could take a picture with him. Of course he said yes. I took the picture of Paola and him, and then Paola took the picture of Rou and me. After I got my picture taken I told him, "Thanks for the awesome show, man!" and then he said something undecipherable in his strong British accent. I'm guessing it was a thank you. Paola, then nicely asked him if he could sing one of her shoes. He happily agreed and gave her his John Hancock. After that we had seen the bassist of the band, Alex. We rushed over to him and asked if we could get a picture with him. We did the same routine in taking pictures and I said the same thing I said to Rou and he too said something I could not understand, but he said it with a smile so I too smiled and went over to Paola to see what our next move was.

We both decided to leave the venue, but not before saying good bye to my friends. So we walked over to Alicia's group of nine people and said good bye. Alicia told Paola how nice it was to meet her. I had not seen an old friend of mine, Josh, who was apart of Alicia's group, until just then. I said hello to him and gave him a hand shake and then fallowed Paola out of the venue.

We walked out onto the warm streets of Scottsdale holding each others hands as we crossed the black road. You could not see any stars whatsoever. Just a few head lights slowly moving through the night, not too far from where we were walking to my parked car. There were plenty of trees and bushes lining the small businesses surrounding the venue. When we got to my car I checked to see if there was a scratch or dent on it, because Paola had pointed out earlier that the truck next to us had opened their car door a little too wide to where it hit the side of my car. Luckily there was nothing I could see.


We got in the car and headed back to Buckeye were I would drop off Paola. We had little conversation on the way home. It was cold in the car. We wanted it that way. It felt good after being so hot in the venue and being in the heat of outside. I kept my right hand on her upper, left leg as I was driving, just enjoying the feeling of her being in reach until I would have to drop her off at her own house in her own city.

The freeway had only a few cars on it. In the late hours of the evening, the only sign of life other than our selves were the city lights of the metropolitan area. The only sound was the enjoyable sound of silence after a night of incredible music.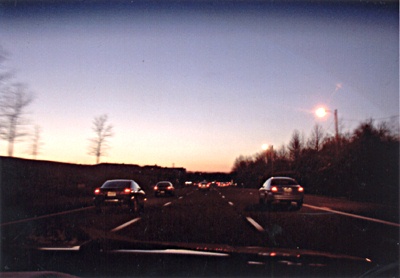 © Carolyn K., Toms River, NJ