What do you do want in a boyfriend?
November 21, 2009
"What kind of question is that?" Mar asked.
"Oh- I know: 5"10', thin, short, dark hair, blue eyes, no glasses."
Mar and I stared at her in silence for a moment, then burst out laughing.
"What?" Reece said, and I laughed harder because she was serious.
"Well," Mar said, "I guess I really like the bad boy type. No listen," she grabbed our hands, trying to get us to take her seriously.
"I'd like a guy who's not afraid to stretch the rules. I need to never be bored with him, but he needs to be able to protect me."
"From yourself?" Reece burst out and Mar half-heartedly pushed her away.
"What about you, Bubbie?"
I thought for a moment. "Number one- he'd have to be a Christian." They burst out laughing, then stopped abruptly.
"Yeah, I guess that's important." Mar avoided eye contact. "But number one?"
"It's not like you're going to marry the guy."
"Isn't that what dating is, though, searching for a good husband? I'm mean, sure, I'd like him to be smart and anti-sporty like me. I'd like him to be able to read my moods and be good with animals and children. It wouldn't hurt if he loved to dance and read, like me, or if he was more outgoing then me.
"But those are the things I THINK I want in a boyfriend. I KNOW, I want, I need, a Christian."
The three of us lapped into silent meditation, but when three cute boys walked by: one tall and dark haired, one with a scar on his face and wearing leather jacket, and one carrying a bible and humming "Amazing Grace", they squeezed my hands and I smiled and nodded.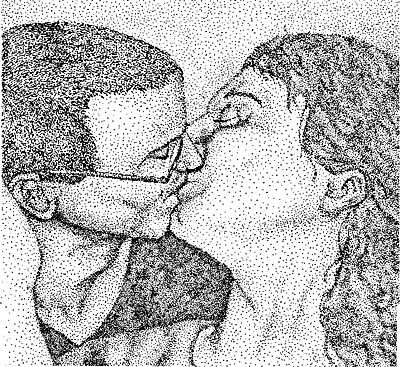 © Amanda H., Rogers, MN