Me as the Transfer student
November 23, 2009
I remember my first day in my new school. I was pretty nervous but excited all the same. New school, new people to meet, new friends-aarrgghh! There were lots of butterflies in my stomach.
The moment I set foot inside the gates, I knew this wouldn't be easy but I just kept lying to myself muttering " you can do this!" over and over again. I shivered albeit the temperature isn't actually what you can classify under the "cold column". The good thing is that the "klutz part" in me didn't take over. I didn't trip on the stones. I went to the guidance counselor's office to check out what class am I in. 2-St Francis. That's my first section in my school. I tried to act as though I was really confident about this and I tried to look like I knew where that room is. okay, I have to admit, it took me more than 15 minutes to find that.
I sat beside a tall girl with long hair and a pair of jet black eyes that's got a look that says "if you're not cool, stay away from me." huh. I introduced myself in front (jeez, going in front of a crowd always makes me nervous. Told them my name, former school and stuff like that. I made new cquaintance. The girl in front of me.
2 weeks passed. I was feeling more at home in here when I was called at the guidance counselor's office. The woman said, " youl'll be transferred to another section for some reason." WHAT???!! okay, that was a bit unfair. but what can I do?
There, the next day, I'm in 2-St Anthony. But as more days passed, I realized this class was way far better than the former one. Here, I met my best friend whom I consider as a brother too. It's fun being with my Anthonian family. For three years, they had been my classmates except for some who were transferred to other section.
I don't know what had become of me when I started my h.s. in the former one.
BUt, hey, who cares? I'm very happy with my "family"(my classmates) now.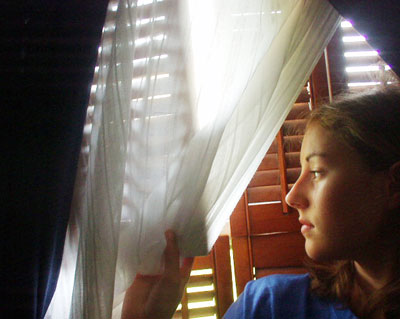 © Candace R., Mt. Pleasant, SC