Let Me Live in the Now
November 19, 2009
I was never that girl eager to grow up, anxious to prove I was responsible. I was always the girl who wanted nothing more than to spend her days with Peter Pan off in Neverland. To never grow up, to never surrender, to never love, to never make your own choices. That was the life that I wanted. I know now that these thoughts of mine were wrong, though I would still choose Peter Pan over high school any day.
I don't want to apply. I don't want to try. I am afraid that if I try I will fail. I don't want to be responsible. I want to fantasize all day about the heroes in my books and dream about me living their lives and what I would do in their situations. Hundreds of lives all at my fingertips and the edges of my mind, just waiting to be dreamt of again.
I want to stay who I am now. I want to be the 13 year old girl who never has to grow old, who has the heart of a child, who doesn't care about the outside world, who only cares about the present who has no future. Who needs no future. Who can only exist in the present, who will disappear when I am to awaken. Who is nothing more than a dream behind closed eyelids.
I don't want to learn to read, to write, or to draw. I don't want to choose what profession I am to pursue for the rest of my life. I don't want choices. I don't like choices. To choose or not to choose…to hell with both I say! Just let me live in the now, let me live as a child forever, let me live with the heart of that child. Don't make me choose my path just yet. You can't force me down one if my legs refuse to move.
Let the sun beat down upon my red hot thoughts, and the waves roll to and from the shore of my decisions. Let answers rain down upon my hot, dry heart and quench it's burning thirst. Let me fly with Peter Pan, let me sing with all my heart, let me out. Let me out of this cage of choices. Don't make me choose. I'll answer wrong and be forever bound to my mistakes.
Let my pages be turned, read and remembered. Let my words be imprinted forever on the minds of those who wish to know my story. I don't want to be forgotten. I want to be remembered in the hearts of those whom I love and who loves me back. Let there be tears when I depart. Let there be tears when my thoughts are read by others. Let me go. Let it happen. Let me fall into your embrace with closed eyes and an open heart. Welcome me. Welcome the me that is here now. Don't talk about my future. Don't shed light on the times that are to come.
Blow out that candle. It has just been lit but it wishes to burn no longer. It longs to be snuffed out like the smallest, most insignificant life on a far off star. This candle does not want to be relit. It is happy in its current state. Tall and proud, unaware of what its like to meet its final end in a pool of hot wax. Frozen as a tall, young candle, never to become nothing more than an stub of old wax that has maxed out its life, its chances, its choices. Letting opportunities pass it by. Burning only by the smallest flame on the smallest wick. Struggling to fulfill its purpose, but never quite outshining other candles. Always at the bottom, always receiving that last bit of gas left in the lighter. Getting by with just enough, but barely. Scarcely able to burn, and yet still innocent and unaware of true hardship.
Let me live in the now. Don't force choices upon me for I will not make them. I will not grow. I will stay this tall, proud candle, living by what I already know, not learning. Staying me. Let the early flames of life engulf me. Let me burn. Then, let me be blown out in a single breath. Snuff me out without so much as a second thought. Watch my smoke be released from my wick. Let it go. Let me be free.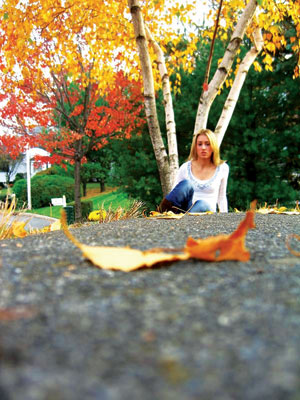 © Stephanie F., Garnerville, NY