My big Sister is gone
December 11, 2009
My sister is my best friend and my heroe.She was charged for involuntary manslaughter. She was babysitting a little baby boy named Gavin (that's not his real name), and he "supposedly" hit his head because she wasn't paying attention.

Involuntary manslaughter, in this case, means he "hit his head" while my big sis was babysitting him for the weekend. Two months later he died. I for one know that he never hit his head because I was with her that weekend and I stayed with Gavin the whole time. A couple of years later the baby's parents sued her.
They're just people who are grieving and they want someone to suffer for what happened to him. I pray for that family, because they have so much hate in their heart. My sister doesn't blame them so I don't either. But when my parents told me it was over, she lost, I hated that family so much. I realized though, that they need us to pray for them. If you have a loved one in jail, you know how I feel.
The worst part about all this is she has an eight year old son, and he goes visit her every week dutifully, but he still doesn't know what's happening, or why his mom's in this bad place. He doesn't even know she's in jail! It breaks my heart when he comes to sleep over, and I hear these heartbroken sobs asking for his mom.
My friends are very supportive, they don't judge, they just help make the time past by faster, so my big sister can come home faster.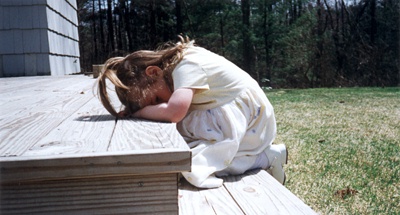 © Katherine B., Hingham, MA